I've been working away for my MFA courses. I've read 7 novels, 5 craft books, and 2 nonfiction titles related to YA literature (plus most of a collection of Chekhov stories and chapters from other books) since getting back on July 15th. That's kind of crazy. I've written three short papers and mapped out 3 of the novels to help understand their structure. I temporarily dropped out of one of my writing groups because it just takes too much time that I could be working. Overall, I seem to be off to a good start. I also made it through revision of Ugly. I need to go through it again before I have a new, solid draft, but I should be able to do that over the next few weeks.
I had a lot planned for this weekend but didn't manage to get as much as I'd hoped done because the worst thing happened Friday night. I came home from Starbucks and found Marvin dead. This has never happened to me before, as with all my other cats, they were sick (and suffering) enough to need to be euthanized. Even though it came up sort of unexpectedly a couple times, I still had a chance to prepare. But Marvin had been his happy self up to the last time I saw him alive. He slept curled up by my feet the night before and took his morning medicine like a champ.
It looked fairly peaceful. I'm pretty sure he just lay down and didn't wake back up. He had a heart murmur, was on 3 medications, and was 14. But still. Finding him like that was horrible. I ended up wrapping him up in a couple of towels and taking him to the emergency vet, where I paid for a private cremation. I've never done that before, but this guy was so special to me that I decided to put his ashes in a wind chime designed for that purpose. I'll hang it on my deck.
Then, in what was probably a highly unusual move, I went and adopted a new cat Saturday. I figured, I was going to get one eventually, anyway, and it would distract me now. It worked. I went to my favorite shelter and got their only FIV+ cat—a seal point Siamese. He's very friendly and the listing warned that he was very loud. He is a little loud, but it's not as bad as I thought it might be. He's just very open about what he feels and thinks that everyone should know. His name at the shelter was Sparkles, which—just no. So I renamed him Maddox, sticking with the M-theme. Currently I've got Maddox locked in the room over my garage because that's where I sleep in the summer (it has the AC) and Marlowe locked in the upstairs bedroom, though I've been letting each of them out into the rest of the house in turns.
Here are the requisite pictures. My favorite of Marvin, because he looks dangerous but was actually super-nice:
The last one I took of him, chillin' on the couch on a hot day: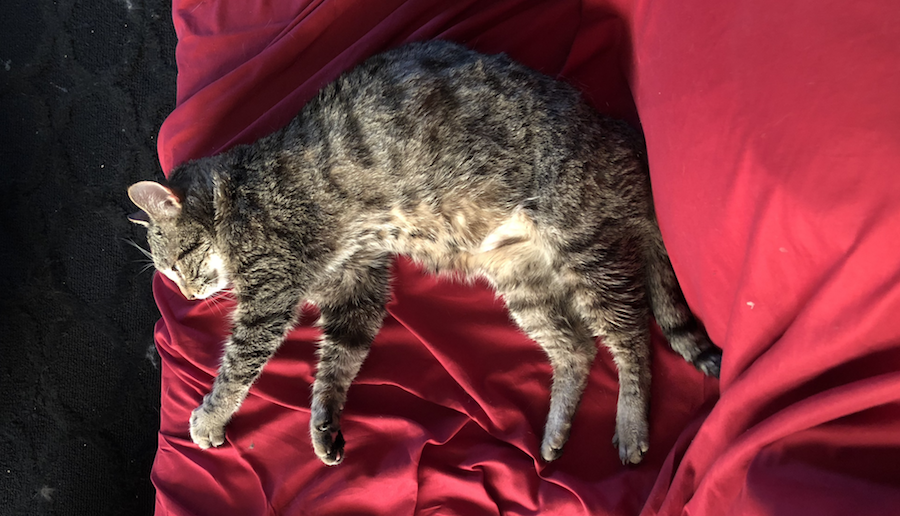 And of course, the new guy, Maddox: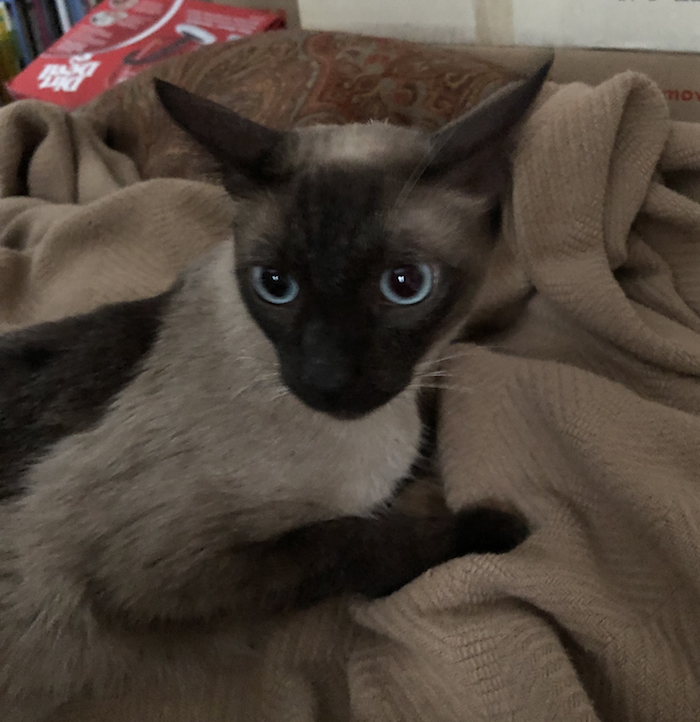 I'll get some better pictures of him later. See that dark spot on his back? He had a benign mass removed in June and they shaved the area, and that's the color the fur grew back in, rather than the lighter color it should have. Weird. They say it might lighten back up, though there's no guarantee.