Yesterday was bit of an adventurous day for me. First of all, a couple friends came over to help me put together my dining room table, which has been sitting in two boxes for weeks. We did manage to get it together and I even set the chairs up so my house is starting to look like a real house now. Check it out: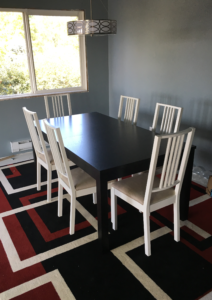 I even have the new chandelier up. It goes well with the sofa I put together a few weeks ago and the rug I've had rolled up in a closet since moving in: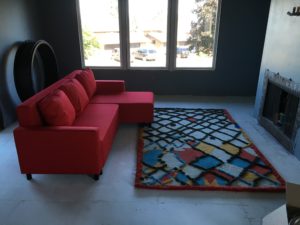 (Yes, that's a giant cat wheel in the background. And no, they do not use it. Of course they don't. They're cats. Though if you want to see cats that do use one, check out the videos at http://onefastcat.com/. It's sort of awesome.)
My friends also helped me move a large metal file cabinet in the garage and to get the old dining room table out of the kitchen and into the garage. Then we were standing there in the garage with the front door open when this woman shouts at someone out of sight about keeping their dog on leash. And then a minute later a dog races into the garage and nearly into the house, but my friend managed to block it (we figured out it was a she later). The dog races all around the garage, the driveway, the street, but she's mostly centered on ramming into any of us humans silly enough to stand still for a moment.
Every time a car would go by, one of us would grab her collar. She had a pink one but no tag on it. She was obviously somebody's very friendly but poorly-trained pet, but with no tag, we weren't sure what to do. I live in a small townhouse complex, across from a large apartment complex, and there's another large apartment complex at the end of the road. There's an unfenced grassy area that serves as a dog park on my street a few houses down and houses that back up to it, but she could have easily run from literally anywhere, especially if she remembered the park. I happened to have a leash for a harness I'd gotten in case I wanted to take a cat for a walk (which I've never done…) so I ran inside to get that. Then we walked her down the street a little, but it was clear that wasn't going to get us anywhere.
I ended up calling an animal control officer. We sat on my driveway with the dog and lots of cars came by but no one claimed her. When animal control got there, he scanned her and there was no microchip, which was really disappointing. I still feel really bad about sending her off, but I really didn't know how to reunite her with her owner and I couldn't keep her. No way would I let her in the house with my cats, and I couldn't put her in the garage either and risk her chewing up the things out there. I think since she was so friendly she has a very good chance of getting adopted. Anyway, in my head her name was Peaches: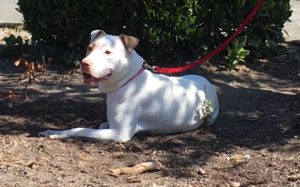 Then after that, I went with my friends to a Polynesian festival where I ate Hawaiian shave ice for the first time. It was a million times better than a sno-cone, even though that's what it looks like. The ice is shaved so fine it's almost creamy. I got vanilla, grape, and passion fruit. Yum: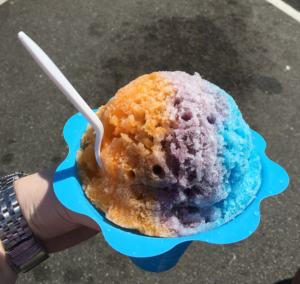 And Hello Kitty was there (in a hula skirt with a lei, of course):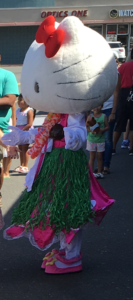 On another topic, Marvin and Marlowe are getting along well: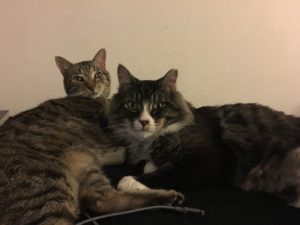 And that was my adventure day. Any day that involves something other than being at home, work, or Starbucks is notable in my world.