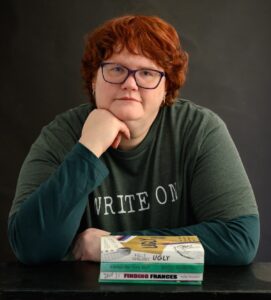 The Basics
Kelly Vincent is a writer of contemporary young adult fiction. Their first book, the award-winning Finding Frances, came out in 2020. Their other books, all released in 2022, include Always the New Girl, Binding Off, and Ugly. They have a Master of Fine Arts in creative writing from Oklahoma City University's Red Earth program.
Kelly lives near Seattle and when they're not writing, they're trying to extract interesting secrets from data. 
Some Other Info for the Curious
Kelly grew up in Oklahoma and went to the University of Oklahoma before leaving the state. They spent a couple summers in St. Paul, Minnesota; studied at the University of Glasgow, Scotland (still their favorite place); studied Spanish in Guadalajara, Mexico; did a Master's degree at the University Edinburgh, Scotland; worked in Milton Keynes, England (they were on a project at Bletchley Park, where Alan Turing worked during WW II); started but didn't even come close to finishing a PhD in Pilsen, Czech Republic; began a career as a software engineer in Durham, North Carolina; moved to State College, Pennsylvania for another job; and finally came out to the Seattle area for a new job. Along the way, they collected a total of five degrees, two Bachelor's and three Master's, which was expensive and probably not worth it. It may be a sickness.
Kelly has several cats who you will see on this site because they like them quite a bit. For many years, they were very involved in cat rescue and fostered dozens of cats during that time. They were only a failed foster twice (which means they adopted a cat they were fostering). Last but not least, they're a feminist—and you should be, too, because it's not a bad word. Seriously.
Other Sites
Kelly has a few other sites dedicated to their different pursuits, which you can get to via kellyvincent.me.