I've been trying to write lately with very little success. I went to a writing workshop with Mary Buckham last Saturday, which was great, but I haven't done any real writing. I'm not sure what the problem is, but I have distracted myself with other work, namely painting my kitchen cabinets. They do look good, though I did have a tiny bit of trouble rehanging them with the new hinges I got. I have to make a few adjustments with my recently-purchased Dremel and a sanding block. I forgot to take before pictures, but I found an old one from when I moved in.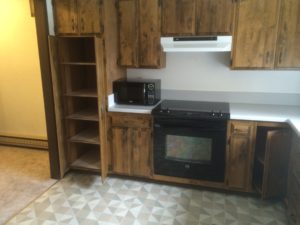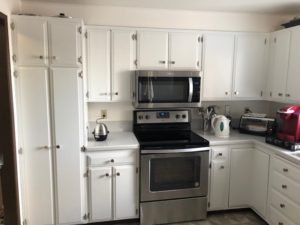 Much better, eh?
Anyway, it's not helping me get any writing done. I'm (theoretically) working on two books right now: my third YA, entitled Ugly, and one other I'm writing under a pen name. I'm stuck on both. My writing group met yesterday morning and gave me feedback on Chapter 4 of Ugly, so that's progress, but I should actually be going through my complete draft for my second pass because I've replotted some things and need to add a lot of details. The other book has also been significantly replotted and there is quite a bit to do on it (even more replotting, too).
I have sent Finding Frances out to a few more agents, but I haven't heard anything back except a No or two. Sometimes it's hard to know if I should take the hint or keep trying. But I guess I'll keep submitting because otherwise I would probably get depressed. It's strange that the constant refrain of "No" doesn't depress me, but I suppose I have the illusion of eventual success.
I haven't even looked at Sadie Speaks in months. I'm still not sure what to do with that one. It's like my group said yesterday as we wallowed in self-pity—writing is hard.