I am really bummed because I haven't been able to do any writing (unless you count blog posts) for a couple weeks and won't be able to for another couple. I'm taking a certificate course in data science that's wrapping up with a huge, time-consuming project. On top of that, I'm trying to finish painting my entire downstairs so I can get an electrician out here to install new heaters (not that I need them right now…) and a few other electrical things. On top of all that, I have critiquing I have to do and places I need to be.
Not to mention that it's supposed to be a holiday weekend and I technically have tomorrow off, but I still have to do some work from home.
Life is so hard sometimes. Wah.
Anyway, it's weird to not be writing and I feel sort of like I'm forgetting to do something fundamental, like eat.
As soon as my scheduled clears up again, I'm getting right back to Sadie Speaks. I'm in the process of incorporating some more  feedback on it from one of my critique partners. I did a first pass through but there are some larger issues to address. Still, I'm planning to have it ready before the PNWA conference, which is in the second half of July, because I plan to pitch it there. This will be the first time I pitch it. I've kind of gotten sick of pitching the first one, Finding Frances, although I do have three full requests out on it right now—one with an editor at Sourcebooks and two with agents. I feel like it's run its course. With Sadie Speaks, I'll be querying people I already queried with Finding Frances. But hopefully someone will be interested in it and then will also read Finding Frances and feel tremendous regret at not recognizing its brilliance the first time around.
Sure. Here's a picture of my downstairs, which is a vast improvement over the last picture I shared. There are many hours of work poured into it. The contractors took down that tacky little half wall, resurfaced the ceiling, and installed new drywall as well as replaced the subfloor around the walls (so it doesn't smell anymore (!)). I've also primed everything, including the ceiling. So much work, and now I still have to take all that paint out of those four cans and apply it to the walls and ceiling. Have you ever painted a ceiling? It sucks. Note that the chandelier in the foreground of the photo is so going away. The box on the floor has its replacement. I can't wait.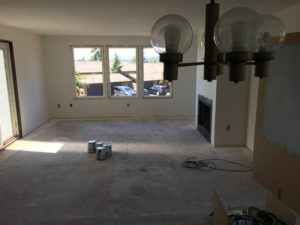 And here's a picture of Marvin, for no reason.