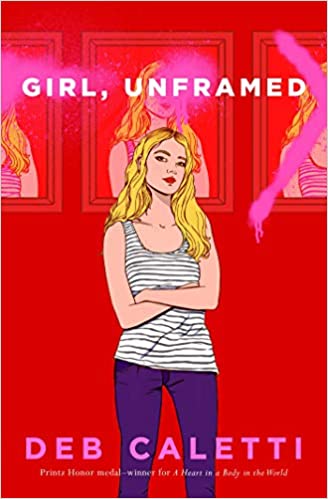 I'm a big fan of Deb Caletti and have reviewed some of her books here (One Great Lie, A Heart in a Body in the World, Essential Maps for the Lost, The Nature of Jade, and Stay). But I'm going to openly admit that I didn't love Girl, Unframed as much as the others. This is probably because it places celebrity front and center, and I'm pretty much not remotely interested in celebrity. But the book still drew me in because of a particular device Caletti used, which I'll talk about below. I've been in a major reading slump and still had no trouble getting through this one, so I think it would resonate more with people who do find celebrity interesting. 
Sydney, the fifteen-year-old main character, is not herself a celebrity, or even particularly enamored of it. But her mom's a very famous movie star who's sort of moving out of her prime at this point. Sydney attends a boarding school in Seattle during the school year and I think spends most holidays with her grandma (I think also in Seattle). But summers are for bonding time with her mom in San Francisco.
Leading up to the summer where she'll turn sixteen, Sydney's got a bad feeling about the visit. She can't shake it, and it stays with her even after she gets there and meets her mom's new boyfriend. Her mom is typically aloof and not super-interested in Sydney as a person. She's definitely a narcissist. And the boyfriend is someone Sydney never quite trusts or likes, even though on the surface he seems fine. But there is something going on, because the house is being watched and there's some tightly wrapped up art in one of the empty rooms. 
It's not just Sydney's misgivings that clues the reader in. Caletti puts a little text at the top of each chapter that lists evidence in a criminal investigation. It's never enough to say what actually happens, but there's no doubt that Sydney is right and something really bad is going to come to pass. This keeps the reader engaged because you're looking for clues to try to guess what it could be and who will be the presumed victim. 
Sydney's relationship with her mom isn't great, which is down to her mom's selfishness, really. But even more importantly, she's not in as strong a position as she used to be. Sydney's seeing evidence of some financial trouble, and her mom's relationship with the boyfriend doesn't seem great. But she's still famous and going out into the world with her is an experience. 
I'm going to admit that the bad thing that eventually happens actually did surprise me. One of the things that I actually questioned throughout the book was Sydney's almost age-inappropriate wisdom and insight into the injustice in how women are positioned in society. But the ending actually made this make more sense to me. 
In the end, I enjoyed the book even though it's not my favorite, so if you're a Caletti fan, check it out (especially if you enjoy reading about celebrity). 
For more, follow my blog for more reviews and news about my writing, and consider signing up for my newsletter.