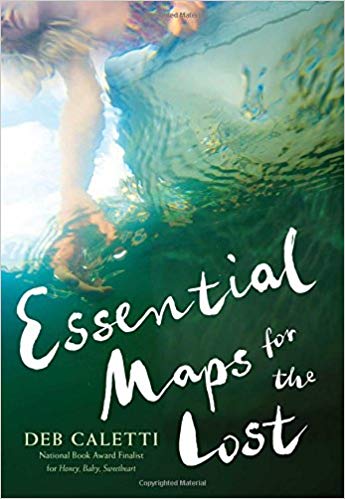 I've read a couple other books by Deb Caletti and liked them both. One thing I noticed is that the two I read (Stay and The Nature of Jade) were different from each other. So I didn't know what to expect when I picked up Essential Maps for the Lost. I heard Caletti speak about this book with E. Lockhart last year at a library event so I knew it had something to do with mental illness, like both of the others I read. But the interesting thing is that I found this book very different from the other two. It felt more more literary, for one (not that the other two weren't but this one seemed more so)—maybe even a little ethereal. I read it for my MFA so I had to study it after my first read through. On my first read, I actually found myself a little confused because there were a lot of characters and we were really deep in both of the main characters' heads. But as I read through it a second time, everything seemed obvious and clear, so perhaps I just wasn't paying full attention the first time I read it. Who knows.
The novel is about Mads and Billy. Mads is an eighteen-year-old living with her uncle in Seattle while she completes her realtor course so she can get certified and go into business with her mom back in eastern Washington. One morning she goes for a swim in Lake Union and stumbles across a dead body. The dead woman committed suicide by jumping off the Aurora bridge and it turns out she has a son—Billy. Mads becomes a little obsessed with finding out everything she can about the woman and her family, which ultimately results in Mads semi-stalking Billy (watching his house from the car and so on). The two of them meet in a kind of random way and they would not have talked again except for the fact that Billy dropped a map he carries around and Mads decides to return it so she finds him again. The two of them bond over what that map represents—the classic children's book From the Mixed-Up Files of Mrs. Basil E. Frankweiler by E. L. Konigsburg—because they both love it. For Billy, it represents a connection with his mom, and for Mads, it represents where her love of reading started.
As I mentioned, the book deals with mental illness. Obviously Billy's mom's suicide is part of it, but the more significant part is that Mads is dealing with depression made worse by the stifling future she sees for herself because of her obligation to her mother. There are some deep moments in the book relating to depression. For instance, Billy thinks,
depression can be a monster only felled by the most epic weapons. It's a bully that winches your arm behind your back when no one is looking, that wears you out, and shouts stuff that sounds romantic but is never, ever romantic
Overall, I liked to book and found the story moving. If you're in the mood for a more literary book than most YA today, give this one a try.