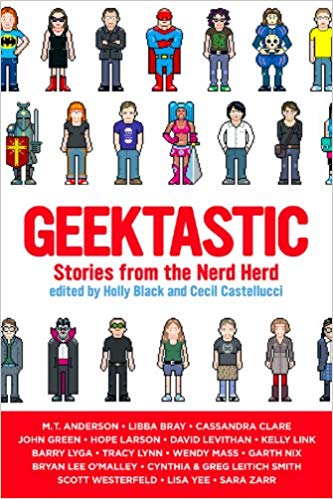 I am still studying short stories for the MFA, and this was one of the few YA collections I've been able to find. So I wasn't expecting too much—but it turns out the book is pretty awesome. I really liked several of the stories. A few were a little on the bland side, but there was only one that I didn't care for. None of this should come as a big surprise given the names of the authors in this collection. Though the book's 9 years old so it predates some of their biggest stardom (John Green, Cassandra Clare, and Holly Black especially).
The first story, "Once You're a Jedi, You're a Jedi All the Way" by Black and Castellucci, is a love story between a Klingon and a Jedi at a con, which is a giant sin if you didn't know. They wake up together and the Klingon is mortified that she's apparently slept with a "[f]orce-feeling, Padawan-braid-wearing, lightsaber-rammed-up-his-ass Jedi." It's a cute story full of classic geekery.
The next story is "One of Us" by Tracy Lynn. This one's about a cheerleader who gets voluntarily schooled in various aspects of geek culture by four geeks with different areas of interest who hang out in the media room at school. She's trying to become more knowledgeable in geek culture to understand her boyfriend better. But it's a nice story that ends with an unlikely friendship.
"Definitional Chaos" by Scott Westerfeld is a punchy story about a guy who needs to get a briefcase full of cash to Florida from… some place far from Florida (I can't remember). It's for a legitimate reason but he gets a helper in the form of his ex-girlfriend, who he still has some animosity for because she killed him in an online game they played. This one delves into the combinations of good vs. evil and law vs. chaos and what it means to be certain ones. The only thing they can agree on is that the girlfriend is chaotic. It wasn't my favorite story but it was good.
I really liked Cassandra Clare's story, "I Never." It's about a very shy girl who's been playing Catherine Earnshaw from Wuthering Heights in an online game where the players impersonate fictional characters from (other) games, movies, TV shows, and books. They group is having a big gathering. So the characters are playing fictional character while also "playing" themselves. Jane only got involved in the game at the prodding of her friend. But in the process, she met a boy who's playing Heathcliff. He's the primary reason she has come to the gathering, because she thinks they have a special connection. But things don't go like she expects at all. It's a nice story, if one of the longer ones in the collection.
Next up is M. T. Anderson with "The King of Pelinesse." This one's about a boy who makes a long bus journey to meet a man who is both his idol (as the author of some pulp fantasy novels) and also someone who his mother once knew and apparently despises. There's a mild twist at the end that I enjoyed.
I think my favorite story in the collection is "The Wrath of Dawn" by Cynthia and Greg Leitich Smith. This is probably because it's all about Buffy, which is my biggest fandom (I'm not much of a popular culture geek at the moment). It's about two new stepsisters who go to a Buffy Sing-Along along with another guy who's supposed to be the main character's date. But he mocks her for being named Dawn since Dawn on the show is one of the more despised characters. Dawn of the story mounts a strong defense for Dawn of the show.
"Quiz Bowl Antichrist" by David Levithan is about a boy who's the token English geek on his school's quiz bowl team. The rest of the team handles the scientific and technical stuff. They make it to a national competition, where tensions mount and unpleasant things get said. It has a happy ending, as you'd expect from Levithan.
The next story is "The Quiet Knight" by Garth Nix. Tony's a LARPer and plays a knight who doesn't speak, because in real life Tony's voice is odd because he damaged his throat and larynx by drinking bathroom cleaner when he was a kid. He's very self-conscious about it and pretty shy, but he finally connects with someone he meets at a LARP event when they run into each other later. It's short and sweet.
"Everyone But You" by Lisa Yee is about Felicity, a girl from small-town Ohio who has always defined herself by her excessive school spirit and her baton twirling skills. When her mom moves them to Hawaii, Felicity's baton isn't accepted with the same admiration by the local students. She becomes the butt of every joke and has to figure out a way out of the mess.
Kelly Link's "Secret Identity" comes next. This one's about a teen girl who's been talking to an older man online. It's told after some events that occurred when they had arranged to meet up at a hotel. It's told in second person, like she's writing a letter to the guy, which I'm not generally a fan of. The story's interesting enough, though, if quite long. Not too geeky, however.
John Green's "Freak the Geek" is about a couple of girls who get targeted in an annual prank against the geekiest girls at school. It tests their friendship. It's not a bad story, but it doesn't live up to any of his novels.
The next story is the one in the collection that I actually sort of disliked. I'll explain why. It's "The Truth About Dino Girl" by Barry Lyga. The setup is actually pretty good and I liked that—the main character is obsessed with dinosaurs and has a new obsession—a guy named Jamie. The problem is Jamie's girlfriend Andi, first for being the girlfriend and second for being a bitch. It's a revenge story and I thought the revenge was over-the-top. I won't give it away, but I just don't really approve…
"This is My Audition Monologue" by sara zarr is another second-person story. It's about a girl and her attempt to both get a part in the school play and also simply be memorable. I didn't love it either—I couldn't really get into the character but theater geeks probably will appreciate it.
"The Stars at the Finish Line" by Wendy Mass is the next one. I quite liked it. It's another love story, with an astronomy theme this time. Peter's had a crush on Tabitha since fourth grade, when he also inadvertently set off a long-term competition between the two of them, even though there's no real competition—she's the smart one who really will become an astronaut. He ends up teaching her about observational astronomy, one thing she doesn't know, and they bond.
The last story is "It's Just a Jump to the Left" by Libba Bray. It's about a pair of eight-grade best-friends who are starting to grow apart. The background is The Rocky Horror Picture Show, something the two of them have attended every Friday night for ages—until Agnes ditches Leta for a boy. The rest of the story is about Leta's quest to grow up, too, while not losing Agnes as a friend.
That's a pretty thorough overview of the collection. Like I said, I thought it was overall very good and I'd recommend it if you're a fan of YA.