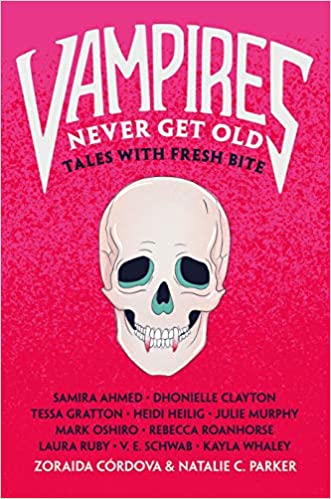 I've read a decent amount of vampire literature in my day, and I enjoy it. So I was looking forward to reading this collection of vampire stories. The editors really made an effort to incite a range of stories, with many diverse experiences represented. Some of the underrepresented characters include a girl who uses a wheelchair, a transgender boy, some gay kids, and several Black people. 
The first story is "Seven Nights for Dying" by Tessa Gratton. This gritty story features a bisexual artist protagonist who has to make a difficult decision.
The next is "The Boys from Blood River" by Rebecca Roanhorse, a creepy one with vampires that are summoned. 
Julie Murphy's lighthearted "Senior Year Sucks" stars a chubby cheerleader who's also a slayer. What happens she meets a local girl vampire who also happens to be very cute?
"The Boy and the Bell" by Heidi Heilig is about a transgender grave-robber who rescues an interesting boy who'd been buried alive.
"A Guidebook for the Newly Sired Desi Vampire" by Samira Ahmed is a snarky take on vampires in India, exploring social media and the problems of colonization. 
Kayla Whaley's "In Kind" asks serious questions about living as a disabled teen. 
"Vampires Never Say Die" by Zoraida Córdova and Natalie C. Parker is another one that touches on social media, and how anonymous it can be. 
"Bestiary" by Laura Ruby is an odd story about a down-on-her-luck zoo worker who can understand animals, set in a slightly dystopian world. 
"Mirrors, Windows, & Selfies" by Mark Oshiro deals with a teen vampire sheltered from the world by his parents. He also uses social media to try to interact with he world, which turns out to be his escape. 
Dhonielle Clayton's "The House of Black Sapphires" is a rich tale about a family of vampires set in historic New Orleans.
"First Kill" by Victoria "V. E." Schwab has a vampire slightly obsessed with a slayer.
These stories run the gamut in terms of style, setting, and themes. In some cases, the main characters are vampires, and sometimes not, but the vampires in the story are always complex and interesting. In some cases, the ethics of underage vampires comes up, too, and there are even references to classic vampire literature. 
Overall, this is another enjoyable YA take on the age-old myth of the vampire, a must for fans of the genre.