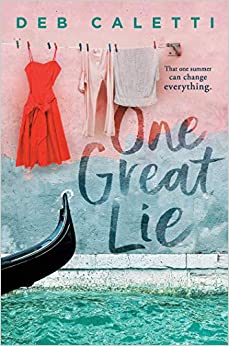 I've been in the worst reading slump lately. From early March until a couple weeks ago, I read only one novel, and it was really hard to get through (not the novel's fault—it was all me). But I've been wanting to break out, so I picked up Caletti's newest. I started it on Friday and was so sucked in that I finished it the next day. It may have broken the slump (I'm hoping), as I've read another book since then, too.
So what made One Great Lie a reading-slump-breaker? Well, obviously it was good, which isn't surprising given Caletti's strong track record. This one starts in Seattle, too, with a girl, Charlotte, who has ancestral ties to a Renaissance poet named Isabella di Angelo. Her family had held on to a published book by the poet for centuries. Charlotte herself is a passionate writer and is a little fixated on understanding Isabella, whose association with a much more famous male poet overshadowed her own work. Charlotte's trying to write a paper about Isabella for a class, but can't find any information about her. 
This quest is important, but the story really gets started when Charlotte somewhat impulsively applies for a summer multi-week writing workshop in Venice with a very well-known author everyone, including Charlotte, admires. To her shock, she gets in and even earns a scholarship, the only way she could go. 
But things do not go quite as she expected. As one of the youngest there, she still befriends several of the other participants and they all learn that the author is … let's say he's complicated and very flawed. But she has an equally important other task while she's in Venice: she is set on finding out more about Isabella, who was from the city. As the story unfolds, there's a clear parallel between the horrible historical treatment of women and the gender-based challenges that Charlotte and other girls and women face nowadays. 
Caletti tackles another feminist issue in this book without sacrificing story in any way. I loved watching the tale of Isabella unfolding, and Charlotte's friendships with local Dante and the other workshop participants are great to see. She had no idea she'd have to step up and do something really difficult and face unfair consequences, but she rises to the challenge and I enjoyed seeing how that happened. 
I loved this book, as I've implied, and highly recommend it if you like quality contemporary YA that addresses social issues.