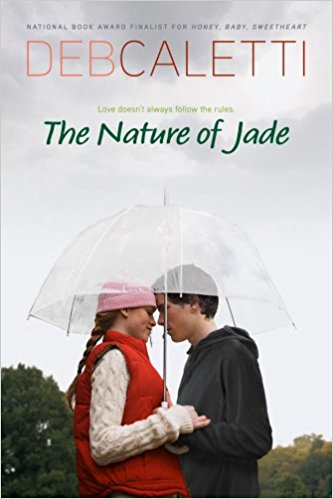 I always like a good book that deals with mental health issues, as long as it does so realistically and non-preachily.* The Nature of Jade fits the bill.
Jade's a very open character, revealing a lot about herself early on, and she's frank as the book proceeds, too. She has Panic Disorder and struggles to keep herself under control a lot of the time. She has found that watching elephants calms her down, so she keeps the Seattle zoo's 24-hour elephant webcam on, which is where she first sees a boy in a red jacket coming regularly to visit, a toddler in tow. She becomes mildly infatuated and even goes there hoping to meet him, but he doesn't show up again. In the end, she volunteers with the elephants and becomes a bit of an elephant care expert.
Then the red-jacket-boy shows up again and she actually meets him and learns his name. They start seeing each other and she really likes him, but her instincts tell her that something is up, though she doesn't know what. When she finds out, it's a bit of a shock. Other readers might guess, but I didn't. Also, once I found out, I assumed the book would go one direction, but it went another.
The Nature of Jade is only my second Caletti book, but I consider myself a fan. She creates wonderfully deep characters who go through interesting journeys. Even the non-viewpoint characters are fleshed out really well. Her writing is nice—great setting details, realistic dialogue that fits each character, and the internal thoughts are powerful. Take this:
Some guys give you the edgy feeling of dogs behind chain-link fences, and some give you the nervousness of high heels you're not used to. But Sebastian—he makes me feel like I just buried my nose in warm laundry.
She also made me laugh (with understanding) with lines like this:
Blushing is so unfair. Might as well wear a sign: WHAT YOU THINK MATTERS TO ME.
I have to mention the bizarre similarities between this book and E. Lockhart's Ruby Oliver books, which I don't feel bad about because the two of them expressed the same surprise (I wrote about seeing them speak here). But it's uncanny—neither knew about the other's book when she wrote her book (the road to book-completion to publication is long, and the first Ruby Oliver book came out in 2005 and The Nature of Jade in early 2007). Ruby also lives in Seattle, has anxiety attacks, sees a therapist, and volunteers at Seattle's zoo. Ruby lives in a houseboat and Jade's boyfriend lives in one. Also, on a side note, there's a guy named Titus in the story and Lockhart's got a major character with that name in Fly on the Wall. Weirdness.
Anyway, that's not important. If you like books about complex people facing difficult situations, you should enjoy this one.
* According to Merriam-Webster, this really is a word.