I had a pretty exciting thing happen this past week. I actually found out on Friday the 13th, which was a good day also because I finally mapped out the rest of UGLIER, something I had been struggling with for months. But the best part was the email I got from SCBWI saying Ugly was the Honor book for the Spark Award in the Books for Older Readers category. They announced it this past Wednesday.
!!!!
For your edification, here is the Ugly cover: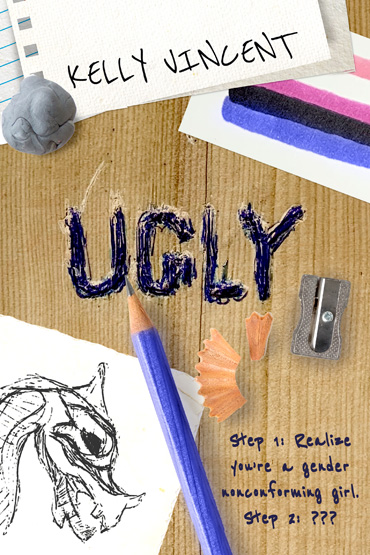 SCBWI is the Society for Children's Book Writers and Illustrators, and most people in the world of children's publishing are members or interact with it to some degree. They give the annual Spark Award for non-traditionally published books, for either younger readers (board books through chapter books) and older readers (middle grade and young adult). There is always a winner, who receives $1000, but they also have the option of also naming an Honor book (optional in that they don't always do this), so it's basically second place or runner-up. No money for that one, but it's still an amazing honor given that there are hundreds of entries of middle grade and YA books (fiction and nonfiction).
Those of you who know me will not be surprised that my brain went, "Well, you know they only picked it is because it's LGBTQ-themed." Fortunately, my brain then went, "You idiot, there's no way yours was the only LGBTQ-themed book entered." So then I felt good again.
Validated and Feelings
One side effect of this win is that it made me feel validated. I've felt like a fraud since writing Ugly because I know people would look at me and say that it couldn't be authentic because I am not personally nonbinary, or out as gender nonconforming, or using they/them pronouns. Of course, I've been thinking about all that since writing it—in fact, when I applied for my MFA, I put my gender as gender nonconforming. Ugly was such a personal story and I really felt the process that Nic went through in exploring her gender because in writing the book, I went through the exact same exploration she did.
I've said since then that if I were young, like a teen or in my twenties, it would be a no-brainer—I'd come out as nonbinary. But as someone in my forties, it wasn't so obvious. There are a lot of considerations and it would impact a lot of areas of my life. It would be difficult for my family and friends (even though I knew they would all be supportive). I'd have to decide if I should come out at work, and that would likely be awkward. It just sounded sort of exhausting—I'd be constantly correcting people. And one thing I've learned from reading LGBTQ books is that I would also be constantly coming out, basically every time I met new people and groups. This made me feel tired. So I never did anything about it.
A Real Fraud
But that made me feel like a fraud. One time, an agent responded to a query on Ugly with the question, "Is this Own Voices?" I answered that it was complicated, and I explained that I was not out as gender nonconforming or nonbinary because of my age, but that Ugly was still as authentic as a story could be. She didn't respond. So I knew for sure that my book would not be respected in the publishing world or the LGBTQ community. And it was frustrating because Ugly was straight from the heart and incredibly realistic. Also, the Own Voices idea always frustrated me because it was itself a binary concept (which I think is one of the reasons many have moved away from using it). Real life is much more gray.
Back to the present. Even though the Spark judges didn't know how I identified, they obviously felt like the story was authentic and believable, and that felt good to me. For some reason, this recognition emboldened me to finally make the leap.
Coming Out
I have decided that I am gender nonconforming and have started using they/them pronouns. I've already come out in some spaces and will be continuing to do that. I'm honestly not entirely sure exactly what this means. Although the terms "nonbinary" and "gender nonconforming" are often used interchangeably, to me they are two different things, and I am still trying to figure out which term best fits me.
But however that ends up shaking out, they/them pronouns feel the most accurate. So I will be using these going forward.