2018 was a tough writing year in some ways, but also good. I had a bunch of rejections on Finding Frances, but I finally heard back from the editor I sent it to in September and she requested a full. This is the last shot for that book, but she sounded really interested in the sample she read, so I am hopeful. I should hear in the next few weeks. I'm sincerely hoping that even if it's a no, she'll give me some feedback on it. I'll be setting it aside, but it would be good to have some pointers on what to try next, when I do decide to crack it open again.
I also spent a good portion of the year frantically working on Ugly, my 2017 NaNoWriMo book, trying to get it ready for the PNWA conference in September. I had several requests on it, which is pretty exciting since those were my first pitches on it (six pitches and six requests, including four fulls). The five I sent are all still out there (I skipped one of the agents because she doesn't like something that appears in one of my other books, so she probably wouldn't be a good fit for me). I didn't send them until early November so I'm not expecting to hear anything for a bit. 
Also, of course, I spent half of the year on the MFA, which was great. I got two short stories done, both of which I'm happy with. One of them is going to be expanded a bit, but I like the short version and plan to enter it in some contests. I'm looking forward to the residency coming up and starting the next semester, especially the playwriting course (should be fun). I already made up my reading list and just need to get my faculty advisor to approve it or make her changes to it. This semester my mentor is Allison Amend. She's written a few novels for adults. Still, I'm hoping to learn a lot from her, even if she isn't focused on YA. 
I also judged for the mainstream category of the PNWA contest, which was a challenge and time-consuming, but also beneficial. It still took up most of May. I was bummed not to final in any of the categories I entered, but such is life.
I was bummed not to do NaNoWriMo this year after a five-year successful run, but I had to prioritize the MFA. I may be able to do it 2019 because I won't be doing the MFA that semester (I don't have enough vacation so I have to wait until 2020 to start back).
Not directly writing-related but still significant to me, I also lost my favorite cat, Marvin, who would have been my muse if I'd had one. But I got a new little guy (Maddox) who's actually a lot like Marvin. Not that he's a replacement, but still. He's affectionate but not overly so.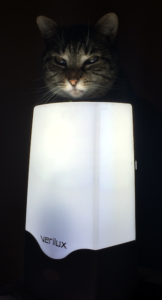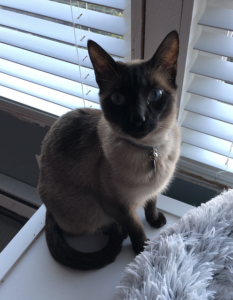 I suppose that's it for 2018. I'm hoping 2019 has more actual good news in it than 2018 did, instead of just prospects.