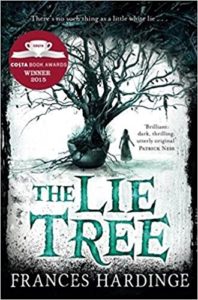 The Lie Tree is a fascinating and unusual book. The idea of the lie tree itself is interesting and creative. The novel touches on feminism, the nature of lies and truth, growing up, knowing yourself, familial love, and fairness. There's a sense of foreboding throughout that escalates and escalates until the climax. It took me a while to read, but I think that's because it made me so nervous for the main character, Faith Sunderly, that I would have to set it down. As I neared the end of the book, it was hard to see what would happen next. It's usually categorized as dark fantasy, but I'd say it's at least pseudo-horror for the effect it had on me.
The book is historical, set in England in the late 19th century, during the societal and scientific upheaval that came after the publication of Darwin's On the Origin of Species. Faith is fourteen and she's just moved with her family to an isolated island called Vane because her father is in the middle of a scandal in which the public reviles him as a fraud for something related to his work as a natural scientist, though exactly what happened isn't revealed for a while. The plan is for him to work on uncovering a new fossil, but soon news of the scandal reaches the island, too, and everything turns ugly.
One of the big themes is the evil of gender-based restrictions and expectations, something which has clearly been improved on in the intervening century-plus, but which girls and women nowadays still face. Faith's father bluntly tells her that she'll never be able to use her brain because she's a girl—she'll just have to behave well. A quote from the book that a lot of people cite sums things up well: "There was a hunger in her, and girls were not supposed to be hungry. They were supposed to nibble sparingly when at the table, and their minds were supposed to be satisfied with a slim diet too." Faith doesn't want to behave. She doesn't accept the restrictions everyone places on her and instead gets angry and fights back in the only way she can—quietly and a little passive-aggressively, changing the course of events on the island.
Faith's father initially does respect her intelligence and commitment to science so she loves him and despises her societally-acceptable mother, so when her father is found dead in a presumed suicide, she's set on figuring out what really happened. In the process, she explores the power of lies, learns to respect her mother for making do under crappy circumstances, and explores relationships with others. Eventually she does understand what happened, as well as everything she needs to about her father and herself.
Faith is a compelling character. One interesting thing about her is that she isn't overly likable. She doesn't always do sympathetic things, and sometimes I wished she'd make other choices. But her choices were always consistent with who she was, what her options were, and how her anger informed them. I should mention that the writing itself is lovely. I highly recommend the book.