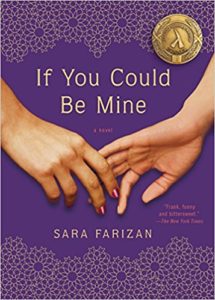 If You Could Be Mine is set in modern-day Iran, which is definitely a setting I'm not very familiar with, so I was excited to read it. It's narrated by Sahar, a seventeen-year-old lesbian, which is not okay in Iran. In fact, it's illegal and the penalty can be as dramatic as death. The immediate problem for Sahar is that she has been in love with her friend Nasrin for as long as she can remember, and Nasrin loves her back. Of course, they spend a lot of time alone and this allows them to make out uninterrupted, so everything is fine.
Sahar's mother is dead and her father is detached, so he has no idea. Nasrin's parents, her mother in particular, are a little more observant. Consequently, they come up with a dramatic solution to save Nasrin from herself and the dire consequences if the girls are caught—they accept the proposal of a man who confesses love for Nasrin.
Sahar doesn't take to this kindly, of course. She hates him, despite the fact that he's a successful doctor and seemingly kind and even conventionally handsome. She's desperate to stop the wedding even though Nasrin herself seems a little resigned. She seems to think they can continue in secret even after she's married. Sahar doesn't think that, and she instead comes up with her own dramatic solution. Because while homosexuality is illegal, transsexuality is not and the government will even pay for sex reassignment surgery. It seems perfect—she'll become a man and she and Nasrin can simply get married.
But of course it's not that easy. Sahar learns more about the surgery itself and thinks more about the consequences. Does she really want to be a man? What would things really be like if she and Nasrin married as man and woman? Also, is Nasrin truly worth that?
Sahar is a great character, increasingly self-aware as the book develops. She's a little funny, too. For me, Nasrin didn't come off so well. She was very believable, but a little selfish and silly for my taste. But there's more going on in the book than the relationship between Sahar and Nasrin—Sahar's father has some growing to do, himself. We also see Sahar risking her entire future with her fixation on the sex change, so we're not sure how things are going to turn out. The book itself is a quick read, and I'd recommend it to anyone vaguely curious about homosexuality in Iran.