New Book Release
I've just released another book this past Wednesday: Fea, the Spanish translation of Ugly. Here's the cover: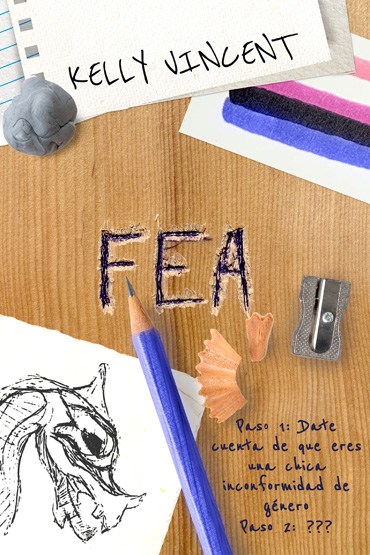 Obviously it's just the Ugly cover with the carving swapped out and the tagline at the bottom translated (and way longer than the English version). 
The book is available pretty much everywhere, like my others (Amazon, Barnes and Noble, Apple, Google Play, and Kobo, and you can order it at your local indie shop). See my landing page for links to all the places you can buy it and the book page here for more details.
Translation Experiment
This translation thing is kind of an experiment. Several writers I know do get translations of their books and they actually seem reasonably well with no marketing. (Nobody knows how to market in a foreign language they don't speak.) One writer said people just find them. I think this makes sense because the problem of discoverability that I've been dealing with is partially a result of the explosion in self-publishing—which while not exclusively in English books, is predominantly English work. Other languages aren't overloaded with so many books to choose from.
So the chance of coming up in a search that someone is making on Amazon or wherever is simply much higher. I decided to start with Ugly because of the timeliness of the subject matter. Although it's probably much more of a current event in the U.S., I am sure that some of the other progressive places in Latin America (plus Spain) have people questioning their gender identities and exploring those ideas. I suspect there aren't very many such books out there, so I'm curious to see what happens. 
Finding a Spanish Translator
Finding a translator was interesting. First, I needed a literary translator, not someone used to doing marketing copy. When I started searching for translators, most do business work and the first literary ones were so expensive—like in the range of $7000 for my 90,000 word (about 400 page) book. I could not justify that kind of expense. After some more searching, I decided to try Upwork. I put together a project and a max budget and got a lot of bids right at my max budget, naturally. But then I got one from a translator living in Bolivia that was hugely lower than my max.
Too Good to Be True
At first I thought a couple things: this was probably too good to be true, and if it is legit it might not even be ethical. I thought about the ethical aspect and decided that because cost of living is much lower in Bolivia, it makes sense that she doesn't need as much money to make the project worth her time, which is obviously different for people living in the U.S. or other expensive countries. She set her rate. So I think it's okay. 
Too Good to Be True?
But I still wondered if it was too good to be true. So I asked her to translate the first few chapters, slightly less than 10% of the book, and I'd pay her 10% of the fee and then have a couple people look at it to make sure it's a good translation of the book in terms of accuracy and tone. My friend Gwen was willing to read it. And in a stroke of luck for me, my house cleaner had once seen some of my books lying around and asked if I was a writer. It turns out that her son is a writer too, and by chance he also is transgender, which made my book an even better fit. She asked him if he'd be willing to read the sample, and he agreed. So that was great. 
It's All Good
Both of them said it was a good translation. They noted that it was a little more formal in Spanish, but that that was probably just the nature of the language, which makes sense to me. Like there's a point where someone calls Nic a "lesbo" and that was simply translated as "lesbiana," which is the same as "lesbian" would be translated. This formality is also a result of the fact that she translated into what is called Neutral Latin American Spanish, so we avoided country-specific words (which of course also means there's less slang, because so much of slang is country-specific, in any language). But anyway, she ended up doing the whole book and now it's out in the world. 
What About Italian?
Another possibility is Italian. Supposedly that market is desperate for more books. I have a good Italian friend from my grad school days who works as an English to Italian translator, so I asked her if she'd be interested in translating my book. She doesn't do literary translation, but has a friend who does. So we're going back and forth about that. Her rate is much higher (it's actually in line with what my original budget was for the Upwork project), but this is obviously to be expected because Italy's much more expensive than Bolivia. But it's still a decent rate that is be worth trying. I've told her I can't do it now but if she's still willing to do it in January, I'd be able to do it then. This isn't finalized, but I'm guessing it will go ahead, so I'm really curious to see how this goes. 
Uglier
And during all of this, I'm working on the sequel to Ugly, which is tentatively called Uglier. If the translations do well, I'll need to get Uglier done, as well. So I'm really curious how all this is going to go.