I've decided to change things a bit with my fiction writing. It doesn't make sense to keep putting my heart, soul, and pocket book so energetically into my fiction writing. So I'm quiet quitting. 
That doesn't mean I'm not writing anymore, but it does means things are going to be different. 
A Great Idea
Thursday I went to office hours for a BookTok class, and they gave me some great ideas to try on TikTok. One of them was to look in the Kindle version of my books and find all the text that had been highlighted by readers in order to quote them in videos (overlayed over flipping pages). This is really a good idea, because while some of what gets highlighted is mundane, I also see stuff that is more interesting and profound show up. So I went and bought all of my YA books on Kindle. And I soon discovered that not a single person has highlighted anything in any of my books, including the one that came out in 2020.
This just says FAIL. It doesn't matter that my first book won some small awards and the next two also did well in a national contest. It doesn't matter that there are a handful of people who really believe in my work and me as a writer. Ten people does not make a writing career. Virtually no one reads my books, no one follows me or interacts with my posts on social media, and no one reads my blog posts. It's hard to deny that I have completely failed as a writer. 
The Effort
At the beginning of my journey, I took lots of classes on writing as a craft, and even went and got the MFA. All that was great, and I improved dramatically. I know I am a good writer. But I'm not quite good enough for the publishing industry, and there is no way for me to get there without help from someone in that industry, but I have been denied access to those people (300 agent and editor rejections sends a clear message). I'm simply not good enough for real traditional publishing, despite having done everything you're supposed to do to get there, and promises that if I just "keep trying" it'll definitely happen. This from people who write "inspirational" posts about how they queried 35 agents before FINALLY landing one. Puke. 
Trying to Not Feel Sorry for Myself
Faced with this rejection reality last year, and a comment from my book coach that my work wasn't quite publishable (this was a surprise to me—I thought what we'd been doing the whole time was making my work publishable, not just throwing my money away), I got depressed and even somewhat lost the ability to enjoy reading (which was probably the worst part). So earlier this year, I decided that instead of feeling sorry for myself, I'd just go ahead and put my work out there rather than sit on it forever, even though I knew they weren't going to be the best books they could be if I'd been able to find a major publisher. I thought that I'd just need to focus on marketing. Self-published authors obviously have full responsibility for their own sales. 
Social Media
I threw myself into learning about marketing and especially learning how to step out of my comfort zone, as self-promotion is very unnatural for me. I did everything I could, even going all-in on TikTok/BookTok, which in retrospect is kind of crazy—I'm someone who generally won't even have my picture taken, and here I am getting on camera several times a week. But I didn't take off on TikTok, where I cap out at about 230 views on every video, with very little interaction, despite several months of posting nearly daily and interacting with other BookTokers (again, way outside my comfort zone, but I did it anyway).
On Twitter, I've been trying to post regular content three times a week, and there is literally only one person who ever likes my tweets (an old friend). On Instagram, where I also try to post three times a week, I usually get five to fifteen likes, mostly from people I know in real life. So my social media "strategy" is obviously not working. 
Blogging
My blogs are even worse. I made my first post on this blog in January of 2017 because I knew you were supposed to have a platform to be taken seriously by the industry, especially agents, and blogging seemed the least intimidating way to start. "Platform" was the buzzword. Even though my post views have always been in the low doubt digits (sometimes in the single digits, actually), I kept going because I believed that eventually I could turn the tide, and then I'd have all this content. For many of those years, I managed to post something every single week.
I've tried different things to pull in readers, with no success. I also have a blog for my romance pen name, and I actually get more views on there even though I almost never post. I have another blog about my art that I get similarly low views on. My blog efforts are obviously not working either. 
Forging Ahead
With all this mounting evidence that for whatever reason, I can't make myself a successful writer (the most obvious reason is that maybe I'm just a bad writer, but I really don't think that's it), I thought I would give it one more full-effort shot and actually pay an expensive publicist for help with my release of Ugly in June. Although it's hard to definitively quantify the results of that because a lot of it involves longer-term impact, it seems to have been a total bust (especially considering how much I spent—many thousands of dollars). I've made about twice as much on Always the New Girl, released four weeks before, than I have on Ugly. But the money is laughably low so it doesn't really matter much, anyway. 
Income
Since my first book was released 2.5 years ago, I have made less than $550 on book royalties. Contrast this with how much I've spent on writing, and it's clear that this is an irrational pursuit. Since 2018 alone, I've spent nearly $89,000 on writing related expenses, from tuition, to editors, to software. Last month I sold a total of ten copies of my five self-published books, totalling $19.80 in royalties. Here's a chart showing lifetime cumulative sales for all my books: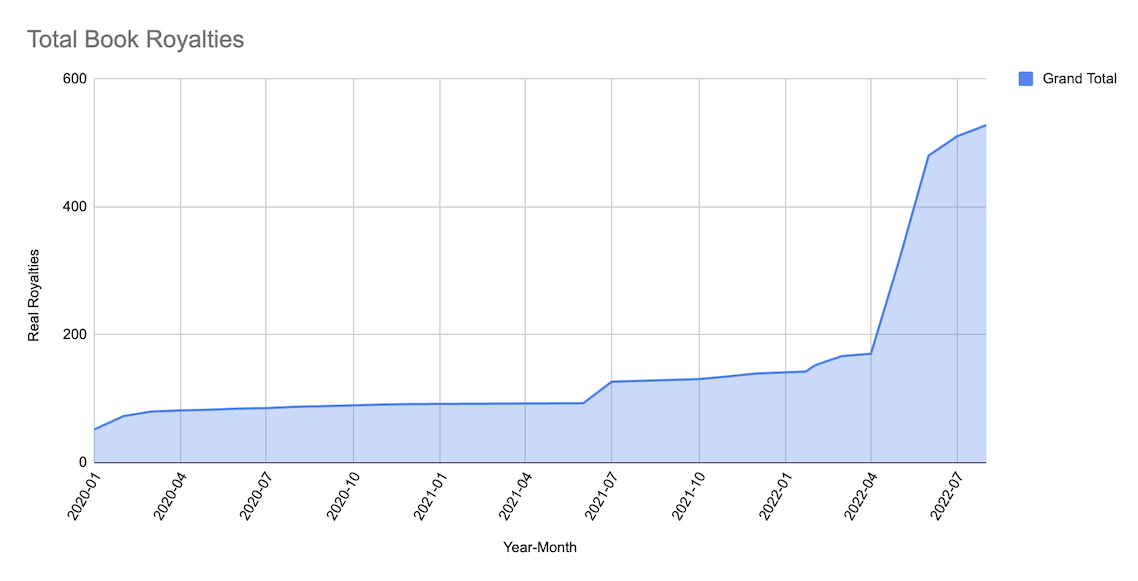 Clearly, staying the course is completely insane. 
The Change
Last year, with all the agent rejections, I went through a bit of an existential crisis with my writing and thought I might give it up. But I didn't seem to be able to stop. Then, when I hired the publicist this year, I decided that if this doesn't work, I should seriously evaluate whether I should keep going. It didn't work. So as I concluded above, I shouldn't keep going as is, but as I learned last year, I probably can't just quit. So I am going to keep writing fiction, just at a much lower energy level. 
I am continuing to work on Uglier, and I also have a romance I've just sent to my editor and will do final edits on it, but that's all I'm going to do. I'm considering submitting the romance to a publisher that does offer an advance, but I'm not decided on that. If not, I'll publish in November. When Uglier is ready, I'll send it to the line editor and then publish it, and then I'll figure out if I should work on the third book in that series or the third romance, or something else. I still have a draft of Sadie Speaks floating around somewhere. It needs a full rewrite, but the story is pretty solid. 
What's Different
But I'm not going to keep making pointless social media and blog posts, I'm not going to constantly look for small and cheap promotional opportunities, I'm not going to enter any more contests, I'm not going to do any more freebies, and I'm not going to check my sales every day. I'm basically dialing back the energy. I'll stop setting myself up for failure after failure, and just deal with the one long-term failure of low sales. 
For now, I'll be giving more attention to the nonfiction and the picture book writing and illustration. I think both may be a direction I could still have some success with. I don't "believe it with all my heart" or anything stupidly naive again, but there is a nonnegative chance. The only way I can find out is by trying. I have a great idea for a nonfiction book for teen and college students that I've started working on (plus I'm working on short nonfiction for adults for real magazines). I'm also working more on my art (I actually decided to withdraw from the degree program I was in, so I have more time to focus on what I want) and will soon be starting to work on sketches for the two picture book manuscripts I have ready. 
Future State
So I don't know where things will end up, but I do know I will never be a YA novelist published by a major publisher. I'll keep putting my work out there, but I'll always know it isn't as good as it could be. And that is still hard for me to accept, but there you go. 
So if you are one of the handful of people who really like my work, thank you and don't worry—there will still be more of it. Uglier is actually coming along quite nicely right now. You will love what Nic has done with herself and a new character just barged into the story, and she's going to be fun.