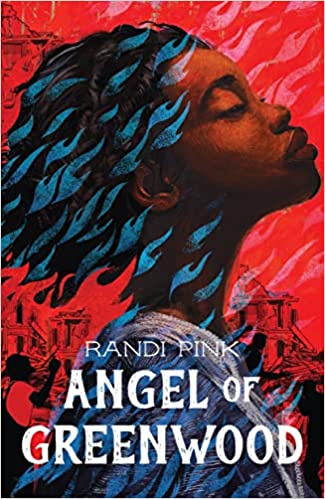 As soon as I knew this book existed, I bought it. It's set amidst the Tulsa Race Massacre. I have a special interest in that event because I grew up in Tulsa and knew nothing about it until about five years ago. It blows my mind that this is something that was "forgotten." It makes me so mad, but it fits right in with all the Republicans who are insisting that the unsavory parts of our history shouldn't be taught in school because it might make some little white kids feel guilty. A little guilt never hurt anyone, and it would make it easier for them to understand their privilege. I think this is actually quite important. 
The Setup
But anyway, on to the story itself. It's actually a rather unlikely love story between Angel and Isaiah, the town's angel and a rough-around-the-edges boy. Isaiah in particular is secretly passionate about poetry, philosophy, and Black rights. He's a big follower of W.E.B Du Bois and so he hates Du Bois' nemesis, Booker T. Washington. Their school is named after Washington, and Angel is a fan of his and thinks Du Bois is too much. 
A Bit of Philosophy
So I had of course heard about both of these men, but I knew very little. But when Isaiah and Angel get thrown together for a unusual summer job arranged by their English teacher, they talk about the two philosophies on improving the rights of Black people. From their discussions, it was clear that Du Bois was more aggressive while Washington advocated for quieter change. I sort of imagined it as analogous to the differences between Malcolm X and Martin Luther King, Jr. 
But I happened to stumble across an article about Washington in The Atlantic and learned a little more about him—his main belief was that individual industry would bring Black people into the country's economy, and they'd then become valued by everyone. Basically, hard work was critical, but it wasn't just working hard—it was also working smart. He founded the Tuskegee Institute and ensured that a lot of Black men were trained in trades that would help them join the economy like he wanted. So I thought it was interesting and a little subtle, even though it's kind of clear to me that that approach is never going to be enough. 
However, the economy perspective not working reminds me of migrant laborers who make it possible for us to have inexpensive fruit, all because they're being exploited and working for criminally low pay. Also, there are a lot of other people from Latin America that make up a good portion in the back of the house in restaurants across the country, some legal, some not. Their value in our economy (keeping prices low and keeping restaurants open) does not outweigh the hatred that so many people have for them for not being white. 
The Story
Anyway, back to the book. Angel and Isaiah fall in love while riding around in a three-wheeled bike with a sidecar and a bin to store books so they can share books with people in the Greenwood community. This was all in the days leading up to the attacks, which started a little after midnight June 1st, 1921. Each of them plays an important role in helping their neighbors. Despite the bravery and efforts of real people like Angel and Isaiah, it's known that a several hundred people were killed that night. 
Although everything in the story obviously leads up to the attacks, that night doesn't dominate it. It really is a story about young people who are living in a rather idyllic place but who are aware that they are privileged to be there, and also know that nothing in life is guaranteed. 
Summary
The book does what historical fiction does best—it shows that the people who lived through significant events were real people who the reader can empathize with. You will root for both Angel and Isaiah not just to end up together, or even just to survive, but to actually to show the greatness within each of them. And the book delivers on that. 
As a totally not important side note, I also absolutely love the cover. It's dramatic and somehow captures both the violence of that night but also the peacefulness the character Angel embodies. 
For more, follow my blog for more reviews and news about my writing, and consider signing up for my newsletter.