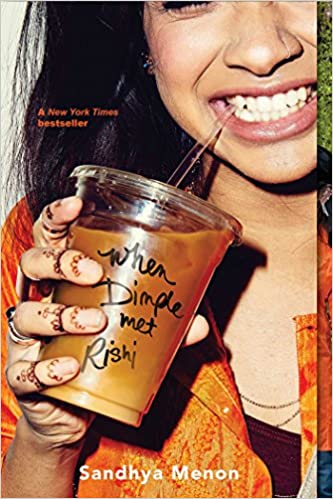 This is a light romance with two second-generation Indian-Americans dealing with being part of two cultures.
Dimple Shah considers herself a feminist and basically hates everything girly. This is a problem because her mom wants her be girly, so they're often at odds. Dimple hates all the stupid rules that society (both American and Indian societies, really) expects women to follow. She's a little judgmental about other people who do follow the rules. She convinces her parents to let her attend Insomnia Con, a six-week program where recent high school graduates (I think) develop an app and compete for money and the chance to get it supported by a well-known female tech giant who Dimple idolizes. What Dimple doesn't know is that her mom has an ulterior motive in letting her go.
Rishi Patel is really kind of a dork. Maybe a romantic would be a nicer word, but I think dork fits. In the beginning, he completely buys into his parents wishes for and expectations of him, going along with everything—and with enthusiasm. He loves the idea of getting to meet Dimple at Insomnia Con and believes they are probably soul mates since their parents set them up. Of course, he also thinks that she knows the score, too, which she does not.
The first time Rishi sees Dimple, he makes a joke about her being his future wife. She has no idea who he is and throws her iced coffee in his face. Given the situation, it was a tiny overreaction, but not over-the-top. Then it turns out they're going to be partners for the entire six weeks, so they're going to have to get used to each other. While they do that, they get to know each other and become friends. Dimple learns that even though Rishi is on his way to MIT in the fall to study computer science, his real passion (and talent) is comics. Rishi has to work on convincing her that just because their parents set them up doesn't mean they shouldn't date. They don't have to get married right away, after all.
There are admittedly some things about the book that are unrealistic and which kind of bugged me. One is that programs like Insomnia Con would fill up right after opening for enrollment, and there's no way Dimple and Rishi would get in so late. And the thing is called Insomnia Con for a reason—because people have to spend all their time—including that which they should be spending sleeping—in order to be competitive. Dimple would know this and would not spend so much time lallygagging around and socializing. I know this wouldn't be interesting to readers (well, maybe to me), but I wanted to at least hear about the sixteen+ hours she was putting into it every day.
But technicalities aside, this is a cute story that a lot of people should appreciate. It's an easy read—chapters and scenes are very short and switch back and forth between Dimple's and Rishi's points of view. It paints a realistic picture of second-generation Indian-American teenagers and how they have to deal with living in multiple worlds, which I always find interesting to read about, and many others should, too.