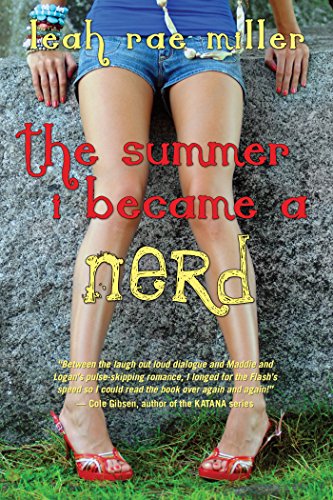 Maddie has several things she's passionate about, but none of them are the things she's "supposed" to care about. She's a cheerleader dating one of the school's finest catches—the quarterback—and everyone has forgotten a disastrous incident in junior high, where she outed herself as a nerdy and very enthusiastic comic book fan and was laughed off the costume contest stage. The only thing she could think to do was pretend it never happened, and never, ever mention comics in front of anybody ever again.
This is fine except for the fact that she still loves comics, especially one she's been following for years. After her safe, at-home acquisition of the final issue of her favorite one falls through, she's desperate enough to head out to the local comic shop—in disguise, of course. But even this doesn't work, as the shop is sold out of the last issue. Somehow she talks the high school kid—Logan—working the register to loan her his copy of it. She's hoping he doesn't recognize her. 
Turns out, Logan knew exactly who she was. And much to Maddie's surprise, the two become friends, bonding over comics, and she feels the pull of the life—and the pop culture—that she genuinely loves. It distracts her from the friends and pop star she's supposed to love. She doesn't really know how to handle it all, afraid her world will come crashing down if she's not careful. But treating your new friend like a dirty secret doesn't go well, so she's got some thinking to do. 
The book celebrates nerd culture and while the resolution didn't read entirely believable to me (I'm just not convinced cheerleaders and LARPers can actually mix), it was still an entertaining light romance.