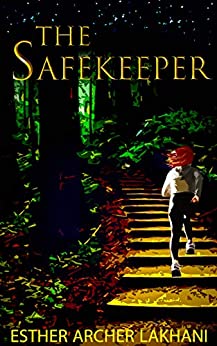 This is a really creative YA sci-fi book with what I would consider fantasy elements, which is mostly set on a contemporary Earth. It really is very unique, with an interesting premise that's revealed over the course of the early part of the novel. 
The protagonist is the 15-year-old Macy. She's a good character anyone should be able to relate to. She has an unusual family secret: her parents run a retreat center for very unusual visitors. In the book, a group of visitors arrive and all sorts of trouble comes with them. While helping to work at the center, Macy also is trying to have a life and meets an interesting boy named Nick. Nick turns out to be a very important character with quite a surprise to be revealed. Macy really rises to the challenges that crop up in the story, proving herself to be strong and resourceful when the situation demands it.
As I mentioned, this book is super creative. Lakhani's aliens are incredibly original, as is the way they visit Earth. The powers they have are interesting and varied. There's also bit of the fantastical in the book, which I think is really cool—I love genre-bending stories. 
Highly recommended for fans of YA sci-fi, especially if you're looking for something different.