This weekend was the Pacific Northwest Writers Association's annual conference. I only went for three of the four days because I couldn't spare the vacation, but it still went really well. Friday day was all about the pitching of Ugly (my first time with this one). I did two 90-minute pitch blocks (tiring) and pitched two editors and four agents, getting requests from all of them. I even more or less memorized my pitch—all 6 sentences of it. Yay me. Both the editors requested fulls and two of the agents did, too, with the other two requesting partials. This was a really good result. I told all of them that I needed about another month to get it ready, so now I have to scramble to make that happen.
Friday night was a panel session with Donald Maass, Dori Hillstead Butler, Christopher Vogler, Cat Rambo, and Chris Fox, with rapid-fire questions from moderator Robert Dugoni. One of my favorite moments was when Maass told us about the bad poetry he wrote as a student and how one of his teachers begged him to just "think of the reader." We got to here about when they first knew they wanted to become writers, what their first writing jobs were, when they first knew they could make a career of writing, what they like best and least about being a writer, and more. Then Friday night was capped off with this monstrosity (which I couldn't finish):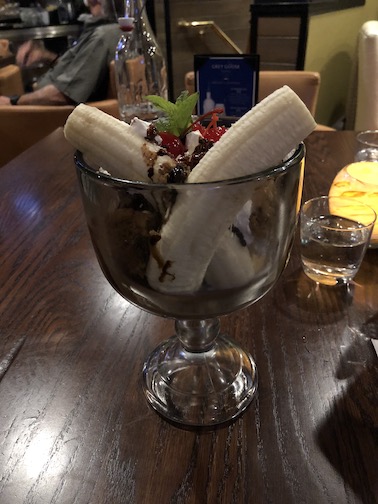 Saturday I went to a few sessions, glad the pitching was over. But then I ended up pitching Finding Frances to an editor at a session I was at (I was impressed by my boldness) and she asked to see it. I sent that query off later that afternoon.
Sunday is a short day at the conference. I attended just one session, called "How to Strengthen Your Novel Plot by Implementing Movie Structure." Since this semester in the MFA I am focusing on plot and structure, this one seemed appropriate.
So in summary, I have Finding Frances with an editor (I also have two partials out with agents from previous queries), have to get Ugly whipped into shape in a month, and then have to send it off to six different people. On top of that, I have deadlines for the MFA for the next three Fridays, so this will be quite a month. Busy, busy, busy.