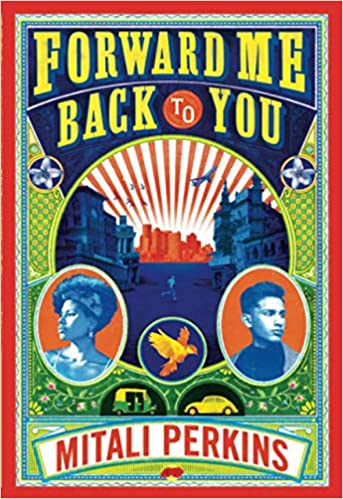 I enjoyed one of Perkins' earlier books, which I reviewed here. Forward Me Back to You is another winner. 
The book is about "Robin," a teen boy born in India and raised—and renamed—by basically decent but clueless white parents. The parents have a lot of money and Robin is set to inherit it, but he's not very interested in that. He's also very Christian and involved in a weekly youth group whose members he's close to. But Robin really doesn't know who he is. And he doesn't really know that he doesn't know. He's very meek and lets other people define him and make decisions for him. It bothers him, but he doesn't know how to do anything about. 
Kat is a teen girl with a black father who's been raised by her white mother. She's also a very accomplished martial artist. But after an assault at school, she's plagued by nightmares, self-doubt, and the fact that of course the piece of shit got away with it. Her mother decides to send her across the country to a close family friend's friend, who she ends up calling Grandma Vee. Grandma Vee sends Kat to the youth group because she thinks Robin and Kat have a lot in common.
The initial meeting doesn't go great, as Kat is prickly. But eventually Kat, Robin, and another member of the youth group, Gracie, decide to go with the youth pastor on a service trip to Kolkata, India, which happens to be where Robin was born before being abandoned at a hotel and landing in an orphanage. They will be helping with an organization that rescues trafficked girls. The trip is eye-opening for everyone, even though we only get Robin's and Kat's perspectives. But before they even leave, Robin reclaims his true name—Ravi—before going and abandons a long-time "friend" who constantly belittled him. So we can see Ravi begin to change even before they get to Kolkata. He spends some of his time trying to learn about his past and the results aren't what he hoped for, and his friends have to help with the fallout. Kat went to Kolkata with a mission to empower the girls she was going to be helping, and her own efforts don't go as planned, either. Gracie helps her deal with the consequences, and Kat eventually comes to understand things on a deeper level than she ever would have expected. 
There is a lot going on in the novel, and it's longer than most contemporaries, coming in at around 400 pages. But the story warrants the length, and it's wonderful to see these characters come to terms with the harsh world and learn to deal with it in healthy ways. I really enjoyed this book, especially with its diverse cast of kids (Gracie is Mexican-American, as well) dealing with so many complicated things. Highly recommended for fans of Perkins and readers of contemporary in general.