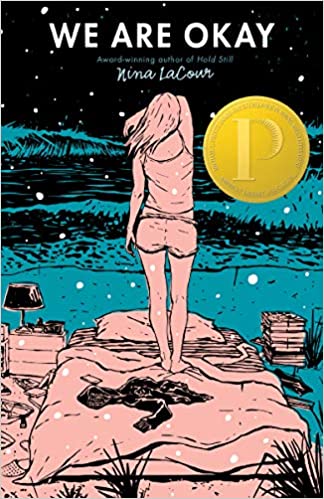 This is another very quiet book from LaCour that punches you right in the heart, much like Hold Still. I've read some of her other books and enjoyed them (I've given each of them 5 stars on Goodreads, which I rarely do), so I expected to like this one. I did— it got another 5-star rating.
We Are Okay is about Marin, who has just finished her first semester of college in New York. She's from California and her best friend, Mabel, is coming to visit her. This best friendship has been deeply complicated by the fact that Marin has been completely ignoring all Mabel's texts since right before her school started. This is a dual timeline story, being told in the present (December) and in the timeline starting in the previous May, so the past unfolds slowly. We know pretty early the basics of what happened: Marin's guardian and only family, Gramps, died in August and she immediately left California. But it turns out to be more complicated than that.
Mabel is pissed at Marin, but she also understands that Marin went through something really traumatic. The majority of the book's present timeline is Marin trying to come out of her shell and really reach out to Mabel, but it's not easy. The past timeline tells the story of their romance and how much Mabel means to Marin, as well as Marin's life with Gramps. It wasn't a joyful life, as he never seemed to get over the accidental death of Marin's mom (when she was three), or his own wife's death. But life with Mabel was joyful, which is why it hurt her so much when Marin completely pulled away. Now, Mabel wants Marin to go back to California with her. Marin has no family left—and no place to stay—and Mabel's parents want to fill that void. Yet Marin can't imagine going.
As I mentioned above, this is a quiet book. It's not heavy on plot—there are no car chases, for sure—but the character development is amazing. Both Marin and Mabel get uncovered a little bit at a time and so artfully, just enough at the right moments. The emotion of the book is delicately handled and you really feel Marin's pain and sense of being lost. The other characters in the book are also very well-drawn—Gramps, Mabel's parents. Even the groundskeeper, taxi driver, waitress, and pottery store owner seem to really come alive on the few pages they occupy.
Quiet doesn't mean slow, but it does mean that it might take a little to really suck you in. I started reading it last weekend and it took me several days to get about 1/3 into the book, but then last night I started reading and didn't finish until I'd hit the last page. If you liked Hold Still, you will definitely like this one. And if you haven't read that but enjoy seeing overpowering and disorienting grief overcome, you will also like this one.