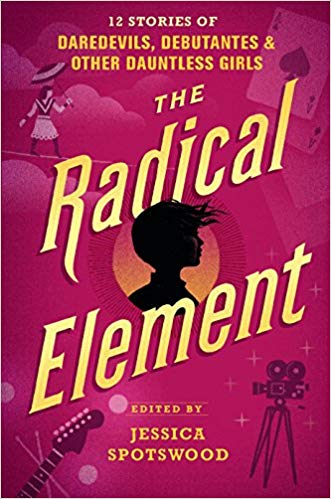 This book is a collection of short stories set in various points of US history ranging from 1838 to 1984. The stories are all about girls bucking the system in some way, but those ways vary widely over the book. The stories are all realistic except for a couple that have some magical realism elements. The stories also run the gamut on the diversity spectrum, including girls of several different religions, several protagonists of color (and different ethnicities, too), at least one lesbian, one character in a wheelchair, and another on the autism spectrum.
"Daughter of the Book" by Dahlia Adler is about a Jewish girl stuck in Savannah, Georgia in the mid 19th century, where she's forbidden to do the one thing she really wants to do—study. She's restricted by both societal expectations—she should be sewing etc.—and actual religious limitations—women and girls were not allowed to study the Talmud, which is what all the men and boys around her were studying. I could definitely relate to her desire to study and would have felt as stifled as she did if I'd been in her situation, but the devotion to religion is definitely not something I relate to. Still, I enjoyed it.
The second story is "You're a Stranger Here" by Mackenzi Lee. This one is about the early days of the Mormon community, starting right after Joseph and Hyrum Smith were killed when the Mormons were in Nauvoo, Illinois. The main character works as a printer's apprentice and she has to protect the original Book of Commandments. It's an interesting story about a Mormon teen not entirely sure about her community and what she does for it, anyway.
"The Magician" by Erin Bowman is about a girl in the wild west of 1958. She's masquerading as a boy and has become a card shark, getting all the newcomers who came to town. She doesn't know her history but has an enigmatic note that leads her to believe she might have family in California. The story's about how she's going to get there.
The next story is "Lady Firebrand," written by Megan Shepherd and set during the Civil War.  The main character is in Charleston, South Carolina visiting relatives. Unbeknownst to the confederate family, she's not just some "pitiful girl" in a wheelchair. No, she has real skills and puts them to use at night disrupt shipments of commodities. She can't do it without the help of her free black maid, however. This was one of my favorites of the collection.
Next comes "Step Right Up" by Jessica Spotswood. It's set in Tulsa, Indian Territory (this was pre-statehood for Oklahoma) in 1905. The main character dreams of joining the circus as a high-wire walker and needs to make it happen because of family issues. I liked this one, too, even though the circus is historically sort of evil.
"Glamour" by Anna-Marie McLemore is set in LA of the 1920s. It's an interesting one that uses a small dose of magic to make a point about the rampant racism of LA then (and hints to now). The main character is desperate to be one of Hollywood's stars, but she's Mexican so that would never fly. She uses some family magic to glamour her face so she looks white but has to deal with the consequences.
The following story is "Better for All the World" by Marieke Nijkamp. This one's set in 1927 in Washington, D.C. It features a girl who's clearly on the autism spectrum who wants to become a lawyer. It starts with her attending a trial over the forced sterilization of a woman deemed mentally deficient and identifying with the woman because of her own "differentness". So it's personal, but she's also interested in the proceedings. She meets a young man at the court and he challenges her (though she challenges him right back).
"When the Moonlight Isn't Enough" by Dhonielle Clayton is the other story that uses magical realism. The premise is that the main character and her family have eternal life by consuming moonlight. But she's not sure that staying under the radar is the right thing to do since it's the middle of World War II. They are black and her family feels like there's no reason to get involved in a war when America treats black people so badly. She has to decide what to do.
"The Belle of the Ball" by Sarvenaz Tash is set in Brooklyn in 1952. The main character dreams of becoming a humor writer even though that's no easy task for a girl of that time (or of any time, really). The story is steeped in I Love Lucy references, which I'm sure some people will love (they went over my head). The main character's mom is set on her being presented at a debutante ball. So she has to go through all that, but it doesn't keep her from seizing an opportunity to get noticed as a writer.
The next story is "Land of the Sweet, Home of the Brave" by Stacy Lee, which is set in Oakland, California in 1955. This one deals with a girl from Hawaii who is of mixed descent, including Chinese and Japanese. She is going to audition to be the face/mascot of a sugar brand even though she knows what she's going to face in terms of overt racism.
Fast forward to the early 1970s for "The Birth of Susi Go-Go" by Meg Medina. It's set in Queens and features another stifled girl with a conservative mom. She's dreading the upheaval that will happen when her grandparents arrive from Cuba. But she ends up using that moment to redefine herself instead of getting shoved to the side like she feared.
"Take Me With U" by Sara Farizan is about a teen girl from Iran staying with family in Boston during the Iran-Iraq war in the 1980s. She feels so out of place and just hangs out with her six-year-old cousin. She meets a hip girl from an upstairs apartment and gets introduced to all kinds of music and it really opens up her world in ways she'd never have expected. This ended up being one of my favorite in the collection, too.
Overall this was an enjoyable book with a bunch of very different stories. But they all remind us of how much we share in common despite the time period and who we are. If you're a fan of historical YA or YA short story collections, this one should make you happy—especially if you like to see girls empowering themselves.