If you know me at all, you'll know I keep myself pretty busy. It keeps me from getting depressed. But I've taken on a crazy amount lately, so I didn't finish reading a book this week and don't have a review.
I've decided to branch out into picture books. I want to write and illustrate biographies of women in STEM fields, though I might do some fiction, too. But since I'm new to them, I have a long way to go. I've been reading lots but decided to join some online communities related to picture books to learn more rapidly. I did Storystorm, which is a month-long challenge to come up with an idea per day (technically just the first 30 days) in January. I also joined the 12x12 Challenge, where you try to write at least one picture book manuscript each month. This is focused on the writing part, not the illustrating.  But there's another online school called Storyteller Academy that focuses on picture books, both writing and illustrating if you want. I signed up for that, too. For this there are actual courses and you take whichever ones you want. I signed up for several for this term: Drawing, Illustrating, Character Design, and Writing Picture Book Manuscripts. I also started taking a weekly class in watercolor painting (finally; I've been wanting to do this for a while). Add this to my BFA program, where I'm doing 18 credit hours this semester, the weekly data science class related to work that I'm taking, a really good playwriting class I'm taking, that I have to send ten pages of the in-progress Sadie Speaks rewrite to my book coach every week, that I'm also working on a romance and meeting my critique partner weekly, the two monthly critique group meetings, and the fact that I've got a full-time job, and it all adds up to me being crazy busy. But I love it. So.
Two of the classes I'm taking for the BFA are perspective and topics in color, and I'm loving both of them. The perspective class is great—I've always been decent at perspective, but I am learning more about measuring, which speaks to the math-minded person I am. And the topics in color class is also fascinating. We're studying color mostly via acrylic painting, and there's something very satisfying about mixing paint. I'm learning a lot, even though I still don't think acrylics will be my medium of choice. As much fun as the process is, the end result doesn't please me the way watercolor does (though I know you can water down acrylics and use them like watercolors, but I'm still thinking I'm leaning toward watercolor proper).
I'm going to share an abstract painting I did for my topics in color class. We had to take a photograph and make an abstract version of it. I used this photograph of a sunset in Oklahoma City on New Year's Day 2020: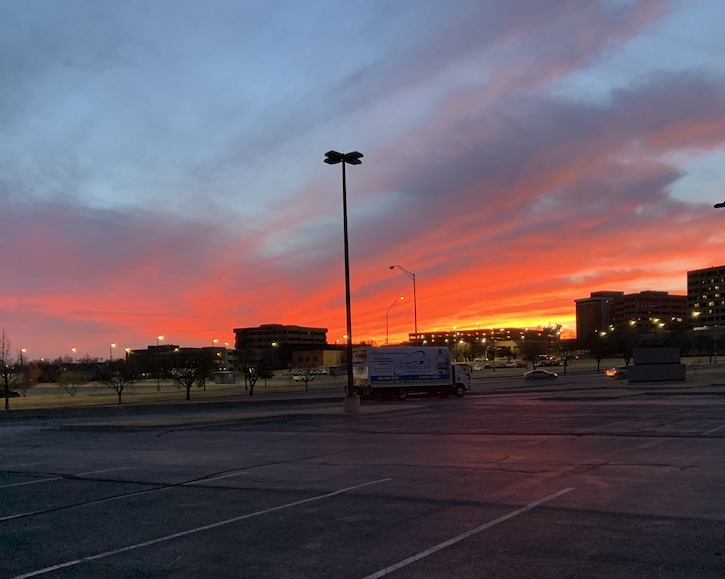 And this is the painting, which I like even though it's not exactly fine art: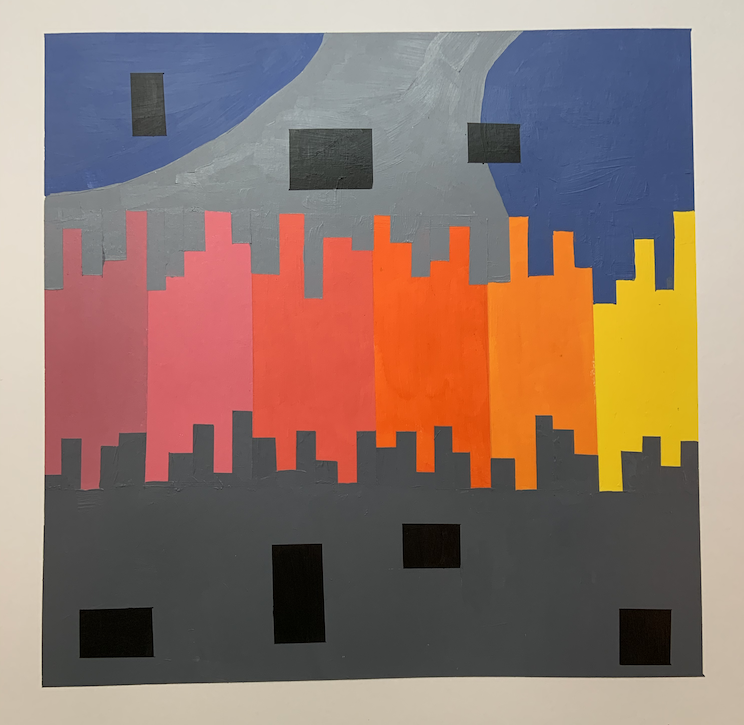 I'll also share a drawing I did for my perspective class, which has lots of problems but is still kind of cool: