Last weekend I attended my first book event as part of the Author Event Network, the Shoreline Holiday Market held on the ground floor of the Shoreline City Hall parking garage. The most notable thing was how cold it was basically outside without even the sun to warm us up. It reached the low forties by noon, but didn't go much higher. I got there about 9 and didn't leave until after 5, so I appreciated the decent coat I have and the portable propane heater I bought the day before. I actually didn't appreciate the heater until the propane canister ran out, and then I realized it actually had been helping quite a bit, as it got noticeably colder.
Table Setup
There were six of us there, selling different kinds of books. We each had about 3 feet of table space, and I tried to make the most of it. I feel like my display was pretty good, honestly. Here's what it looked like: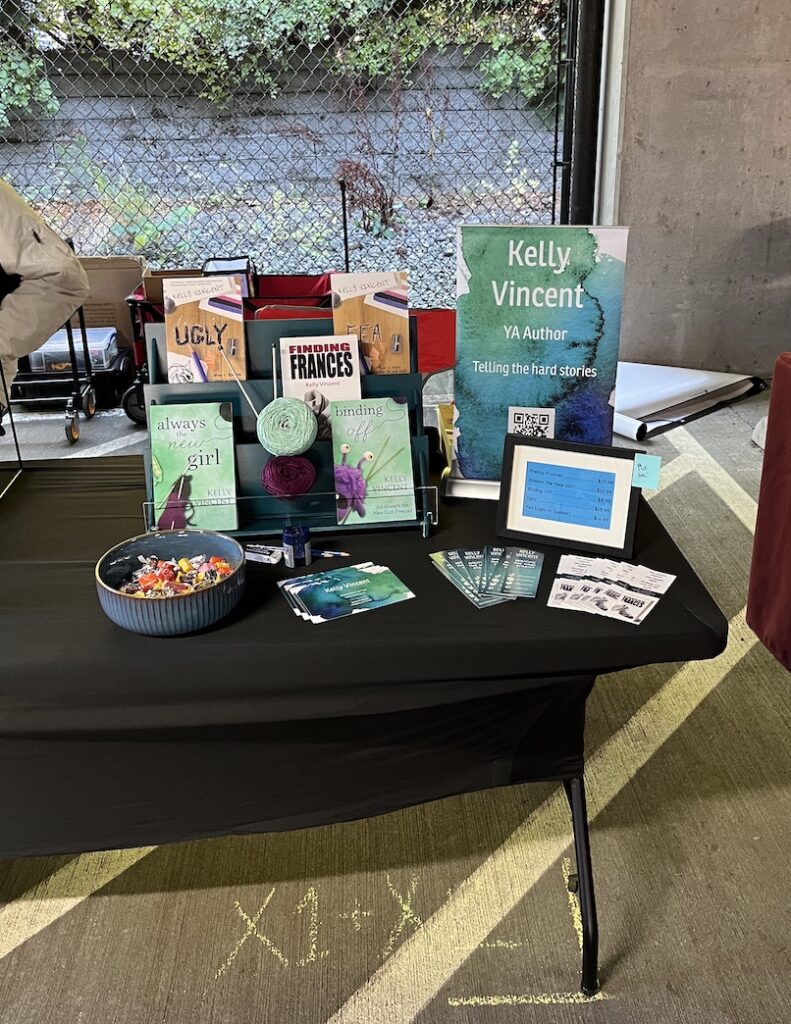 I've definitely got the blues and greens going on, with a splash of purple. Assuming I get the rights back on Finding Frances I'll have to do a cover with those colors, too.
Before the Storm
I took a couple shots of the full event setup a little before it started, so you can see the scale:
Nobody's there yet—the quiet before the storm. The event was actually pretty well-attended and our table for a lot of traffic. Here's my view from my chair: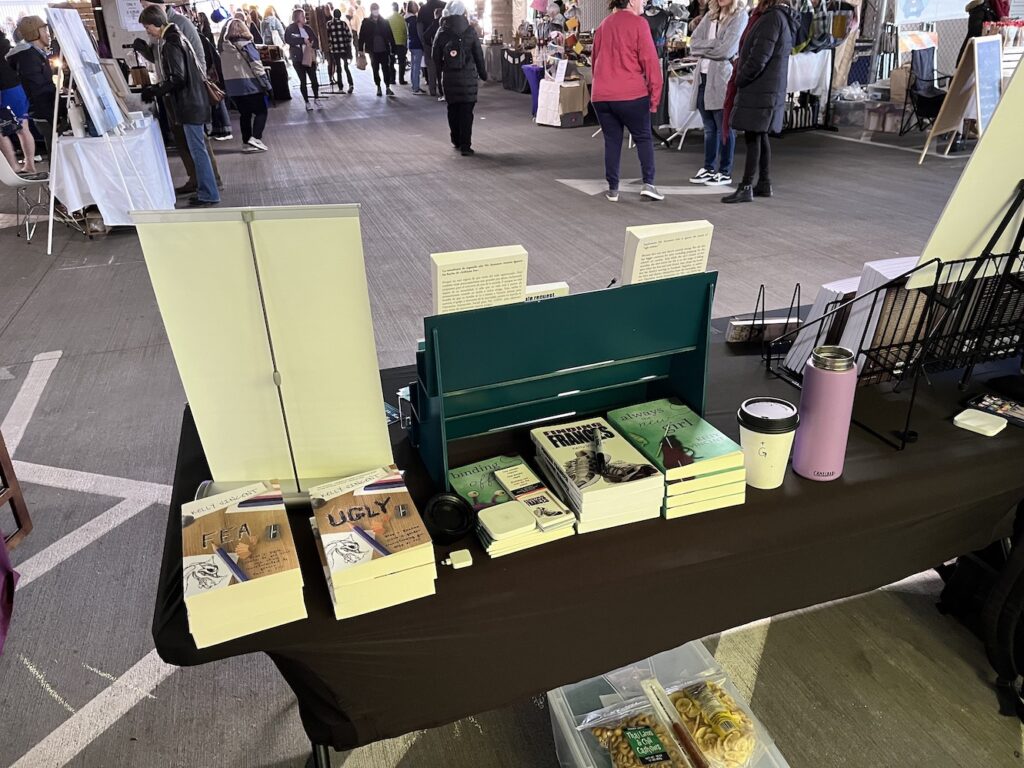 Selling and Lessons
In the above picture, you can see a sample of the crowd. A lot of the authors did really well, selling upwards of 20 books. I did not do so well, but I learned a lot while I was there. One thing is I'm going to have to come up with better hooks for all of my book descriptions. It's true that I am able to talk about my books more coherently than I could at the beginning of my author journey. I don't ramble about plot details or anything, but there's not much of a hard hook to it. So I'm going to work on that before going to additional events.
I also learned that you don't want the end spot if you can help it. I saw many people stroll past my table only to stop at the next one when they finally noticed books (and not backtracking to mine). Only a few people took candy without looking at my stuff, but I learned that Starburst are not the best candy to bring when it's freezing—they were hard as rocks.
Future Thoughts
It looks like none of the 2023 events are until summer, so the Starburst won't be a problem and I've got time prepare some hookier pitches. I was originally hoping to have Uglier out by next summer, but I don't think that is going to happen because I've reprioritized my nonfiction project at least until I can get the proposal done. But who knows; I might get a burst of productivity.
Thank You, Mr. Heater Friend
You were appreciated.