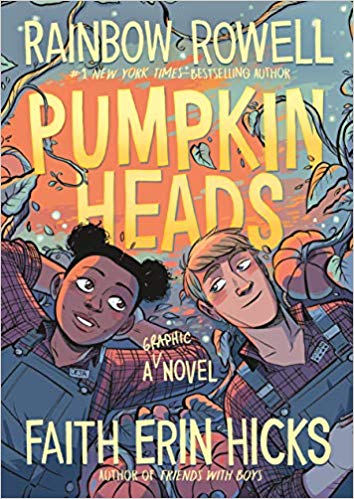 I'm a big Rowell fan because I think she does a fantastic job of capturing the emotional truth of people in her characters. I was new to Hicks, but I quite enjoyed this graphic novel. Hicks' art was sharp and evocative. It felt like she used an autumn color palette, too, that comes across as seasonal and vivid.
Deja and Josie have worked together every fall at the local but immense and involved pumpkin patch and now it's their last year there before they go off to college. It has numerous stations, from Pappy's Apples, the Corn Maize, the S'mores Pit, and the Haunted Hacienda. The two of them have worked at the Succotash Hut every year and they're very good friends, even if the don't see each other except in the fall.
Josie is a shy boy who's harbored a crush on Marcy, a girl who works at the Fudge Shoppe, since he started there. Deja is an outgoing and bold girl who wants to help Josie seize the day and tell Marcy how he feels. They do something that feels wild and crazy to Josie—leave their station and go on a quest to find Marcy, who keeps getting moved from station to station right ahead of them. Along the way they run into many of Deja's exes—boys and girls—and we learn just how timid Josie really is. He has a lesson to learn about pining for someone from a distance rather than paying attention to what's in front of his face.
This is a cute fall story, very well-illustrated. Fans of Rowell should like it, and I'd imagine the same can be said of fans of Hicks (I'm planning to check out some of her other stuff).