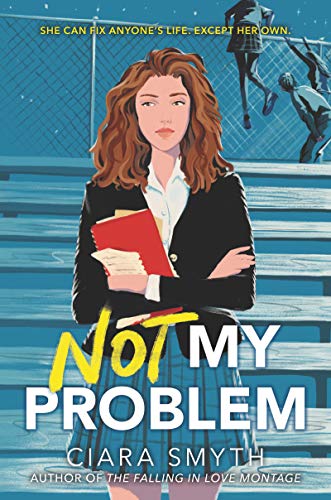 Not My Problem is another book that broke through my horrible reading slump. This is honestly one of the best books I've read in a long time, and I managed to do it in just over a week (fast for me right now). It's incredibly funny but still has enough teen angst to make me happy (I do love to watch characters suffer).
Aideen is the star of this YA contemporary novel set in Ireland. Aideen is dealing with a pretty difficult home life in the best ways that she can, just trying to hold it all together. She doesn't really let people in, not even her one real friend. So when Meabh, a girl she's thought of as a sworn enemy for years, convinces her to "help" her by pushing her down the stairs, Aideen surprises herself by doing it—for the right reasons, not secret revenge. Now Meabh and Aideen are going to be weirdly tied together. The act also basically conjures another friend, a boy named Kavi who is a sufferer of verbal diarrhea. 
This one act triggers a whole series of other incidents that turns Aideen into the unofficial school fixer. Not everything goes exactly to plan, but that makes it all the more interesting. And in the process of fixing other people's problems, she makes new friends, all while her one long-term friendship is falling apart. Her mom is cracking up a bit, too, and Aideen's pretty stressed out by that. But she feels like she has a handle on everything. It'll be fine. 
One of the things I liked about the book is that the problems the kid have are perfect—they show the range of things teens deal with, from overly strict parents to an accidentally submitted assignment full of profanity. Some are relatively trivial, while others are a little more consequential. But they all feel big to the characters in the story. Another cool thing is that the language the kids use has the flavor of Irish dialect, so it's extra interesting. A final great thing about the book is the relationship Aideen and Meabh form—it's a mundane but sweet lesbian relationship, not one rife with trouble and issues. 
This one's definitely worth a read if you're a fan of contemporary YA. 
For more, follow my blog for more reviews and news about my writing, and consider signing up for my newsletter.