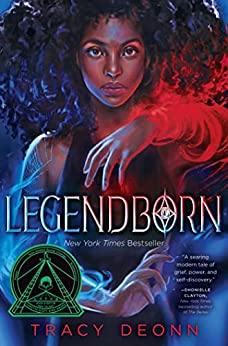 Bree Matthews is a girl with a plan that will help her deal with her mother's recent death. It also is academically sound and will help her in other ways, even though it will also unexpectedly lead to her getting involved in ancient lore she never knew was real. 
Bree and her best friend Alice begin a residential high school for high-achievers at a major university in North Carolina at the very beginning of the book, but things go awry on their first night when they accidentally witness some magic at an outside party they aren't supposed to be at. By Chapter 3, they're in a police car and in trouble with their program. Although Alice doesn't remember it or know what happened, Bree does remember, even though she's not supposed to, and she also isn't supposed to know about the existence of a group called Legendborn.
"His mouth spilling words into the night like a cold wind until they swept away my intention to stay and replaced it with his command that I leave."
Thus begins this urban fantasy full of excellent Arthurian mythology, which made me happy (I've always been a big fan of the Arthur legends for some reason and even took an Arthurian literature class in college). Deonn uses a lot of the existing mythology while not being afraid to shake some of it up. For one thing, Bree is Black, so she already doesn't fit the very white world of the legendary (Celtic) Briton Arthur, who is purported to have lived in the middle of the first millennium and fought the Saxons off. So now, Bree has a lot more going on that trying to do well in her tough classes and deal with the casual racism all around her. She has to learn about the Legendborn and how she's involved, and also some rather interesting stuff about her mother. Bree also finds out that some pretty bad stuff is going on with the world, and she has a role in fixing it but isn't entirely sure she wants to.
The mythology in the book is really interesting, complex, and unique, and any fan of Arthurian lore will enjoy it, as will fans of urban fantasy in general.