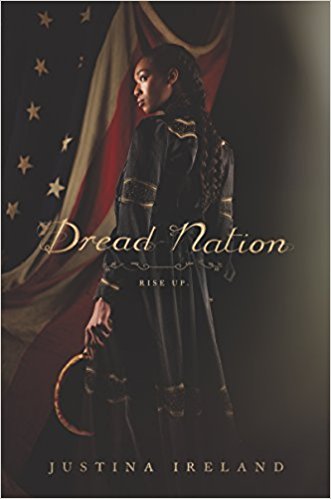 This is really a remarkable and very powerful book. First off, it's a very engaging and exciting story with some action. You've got the Civil War setting and you've got zombies. I'm pretty sure that Civil War era isn't a common setting in YA historical fiction, so that's a nice thing right there. But Ireland has really twisted that setting with her introduction of zombies, or shamblers as they call them in the book (which is, by the way, an awesome term).
After the Battle of Gettysburg, the dead rose up off the battlefield and that started the epidemic. The Civil War ended because the North and the South basically needed to band together to fight the shamblers. Slavery is illegal, but it's not exactly a time of respect for black people. And Ireland did something else really interesting—she took the concept of the schools that they used to forcibly send Native American kids to back in the second half of the nineteenth century and into the twentieth. These were horrible places where the primary goal was to eradicate Native American culture. Ireland took that concept and created combat schools for Native Americans and black people to learn how to effectively fight the shamblers. Because apparently it's their duty to do that while the white people get to mostly laze around.
This is all a great and very creative setup, but what really makes the book is the main character. Jane McKeene has everything you could want in a protagonist. She's smart and has serious moxie—you'd have to be a pretty weird person not to like her. Some of this is her training, but most of it is just who she is. She is a black, which seriously limits the roles she can play in life. But she doesn't let that stop her. She was born to a white woman in Kentucky who was married to a rich man off in the war. I didn't expect to get the full story on that but we do near the end, and it surprised me.
Okay, so that's the basic setup. But there's more to it because Jane gets herself mixed up into some intrigue. The school she attends—Miss Preston's School of Combat—is just outside Baltimore, which claims to be shambler-free. But all is not as it seems. After a bold rescue of an entire room of people, Jane ends up getting the attention of the mayor of the city. Soon she is paired up with a boy named Jackson and a girl from her school, Katherine, on an adventure none of them wants. Fortunately, Jane's there to save the day in her own way.
Let me just say that Jane's voice is amazing. She's so distinctive but is absolutely believable as a girl in her circumstances. When asked "Wherever did they find you?" she answers, "At the junction of hard luck and bad times," because that's what her momma used to say. She's pretty unflappable, but even she has moments where the horrors of the attitudes of the times make her a little emotionally vulnerable: when Jane and other black kids are jogging into a new situation, she thinks:
Old Professor Ghering called Negroes livestock the night of the fateful lecture. I can't help but think of him as we scurry along.
I loved that moment (for a character in a book) because it shows just how awful that racist climate is—even someone who knows better falls prey to shame. It's insidious. She's a very complex character.
Some of the other characters are also fairly well-developed. Katherine in particular is interesting because she's walking a fine line that really challenges her. She's very different from Jane at the beginning of the book, but less so at the end. Her circumstances make her different partially because she can pass for white. A couple of the other characters that mattered were Jackson and Gideon, and I have to say that they could both have been developed a bit more. I wanted more of both of them.
I should mention that Jane is technically bisexual because this has been another touted feature of the book. I say technically because it wasn't integral to the story at all—it felt tacked on. Like, ooh, let's make her bi, too! Now, I'm not saying there's anything wrong with doing that, but it's just not interesting or admirable.
Race, on the other hand, is absolutely intrinsic to the story. No way could this book have been written if race wasn't addressed head-on. Ireland is unapologetic about it, too. The racism is painful and very real. A preacher in the book says:
"I know that you can deal with the obstinate Negroes as long as you remember that they are, at their heart, children. 'Spare the rod and spoil the child,' as the Scripture tells us."
On the risk for black people attempting to pass as white, Jane thinks, "There's nothing white folks hate more than realizing they accidentally treated a Negro like a person." The woman who raised Jane (a former slave at her house) once told her about the "bad old days":
It was bad then, Janie. A different kind of bad, but bad all the same. … So don't let nobody tell you any different about the old days. Life is hard now, nothing but suffering, but some kinds of suffering is easier to bear than others.
This will be a hard book for some to read, but I still think it's worth it. It tells us some truths about the times even while doing so through the screen of zombies.