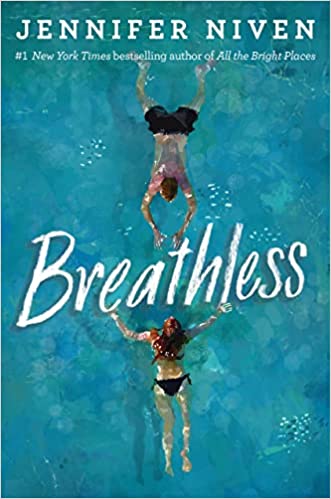 I am a big fan of Niven's first book (All the Bright Places—it's one of my favorite books) so I've read both her others, including Breathless. One thing that I like about her books overall is that they're all different. Her first two feature dual perspective, on the girl's and one the boy's, but in this one, she sticks with the single protagonist, a girl named Claude who's just about to graduate high school when the book opens.
At first, everything's just fine—everything's cool with her parents, her best friend and other friends are all great, and she has a boyfriend she likes well enough. Her boyfriend is of course desperate to have sex, and she's been putting it off. It's not a moral dilemma for her; instead, she just isn't sure if this is the guy she wants to first have sex with. Which she firmly believes is not "losing" anything, thank you very much. When an opportunity presents itself and she very clearly choses not to sleep with him, it's pretty clear to both of them that this is her final decision. So that's over, but she's unfazed and re-fixates on a long-time crush. 
But this isn't the only fissure in her otherwise just-fine life. Her dad shocks her—or takes the floor out from under her—by telling her he's leaving. She is torn up about this, and her parents have insisted she not tell anyone, even her best friend (Saz), which is torture for her. And then, Saz has a new girlfriend she's really into, and Claude feels a little left behind. Not to mention the fact that she and Saz are planning to go to different colleges several states apart, anyway. 
To make things worse, her mom has decided the two of them are going to go away to a tiny island on the coast of Georgia, where neither her crush nor Saz will be. And then when she gets there, it turns out that there is no cell service except in the general store that is open at the whim of the store owner. How's she supposed to stay in touch with everyone?
But that's all just setup. Really, this is a book about first love when it happens at that weird quasi-adult time of your life. Because soon after Claude meets a down-to-earth guy named Jeremiah who works summers on the island (I mean, seriously—the dude wears no shoes), her world starts to shift. But Claude is pissed off about being away from everything she cares about, so it's not all sunshine and roses with them at first. But soon they start to bond, and promise each other they won't fall in love. This time she feels differently about sex and her new boyfriend in general. They don't necessarily follow all their own rules, either. 
It's enjoyable to see Claude grow as her experiences expand beyond the smallish Ohio town she grew up in. She wasn't exactly naive in the first place, but it's one thing to be aware of differences and another to experience them. She and Saz have some work to do, and she's also got to figure out how to feel about her dad, because the split is all about him. By the end, Claude has figured out things well enough to move forward with the next stage of her life. The book features a rather open ending, which often I don't like, but I did here. It feels more authentic this way