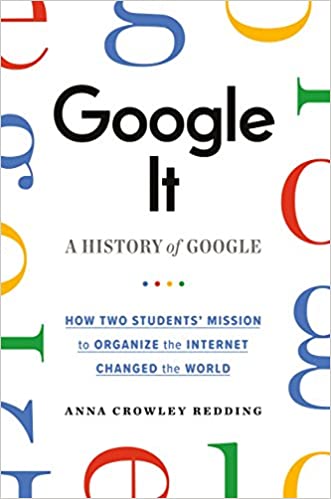 I've previously mentioned that I've been struggling to get myself to read for months. It's a strange thing, given how much I've loved reading all my life. I recently did manage to finish another YA nonfiction book, which was really engaging and it's only the reading weirdness I've got going that made me take so long to finish it. 
This well-researched book but Crowley Redding covers the entire history of Google, from the early relationship of its founders through about 2017 (the book was published in 2018). So it is definitely already a little out of date, but it's a thorough examination up to that point. 
Crowley Redding covers several main stages of the company's existence in three parts: Frenemies + Homework + Lego = Google?, Google It!, and Impossible Goal + Attempt (+/- Success) = Moonshot. Because this is a YA book, the first thing the author sets up is the foundational idea that Google was new—that there was a world in which there was no quick way to easily found out answers to questions, obscure or not (my mom told me this hilarious story about a time she and her friends were drunk one night and debating some fact, and one of her friends called a library in Hawaii because they were still open, and got his answer). She covers the earliest days, with the cute little story about Sergey and Larry really disliking each other on first meeting at Stanford, but eventually working together on a grad school class project that became Google. She covers the basic idea behind Google—that a web page's value is defined more in terms of how many pages link to it, which eventually led to the famous algorithm called PageRank that allowed them to score individual web pages. They originally called their project BackRub, which is obviously a terrible name. They liked the idea of the word googol but weren't particularly good spellers, so we now have Google. Soon, they had their first investment check and actually turned it into a business, at first operating out of a friend's garage before finally getting more money and moving into an actual office building in the late 1990's. I had to laugh when the author mentioned Y2K—it was such a big deal, and I had an internship in the summer of 1998 that asked me to write a Y2K countdown clock for their internal website, which I did in Java. It must have run on their site for the next year and a half. Anyway, everyone knows that Google started as a search engine, but the first time it branched out from basic search was inspired by the 9/11 attacks, when people were searching for information, but Google wasn't designed for up-to-the-minute news. Google News was soon born. Then came advertising on the search page and Google Shopping. And soon afterward, they brought in an actual CEO. 
The second part of the book is more about Google as a company in the modern era, after it had a huge headquarters and tens of thousands of employees. Google Books came to be, and then Gmail. Then they went public. Soon there was Google Earth and Maps. And YouTube. Then Niantic emerged (I had no idea they were behind Pokemon GO!, but they were). Crowley Redding addresses the formation of their now-parent company, Alphabet. And somewhere in all this, she has a short discussion of the China thing. To me, this is a clear sign that Google isn't as innocent as they claim to be, but perhaps that's just me. 
The last part of the book really tries to look forward, focusing the various "moonshot" ventures Google (or Alphabet) is trying. These are basically the really extreme ideas of things that are probably hard to do, and are likely to lead to failure, but seem worth trying, anyway. They are getting into AI and other research for a variety of projects, including self-driving cars, machine translation, drones, wearable tech, Google Home, rural Internet service via balloons, space travel, and slowing aging. 
So the book covers a lot of ground, even if the last four years or so aren't addressed. I'm sure there are more academic explorations out there, but this would be a good place for anyone to start learning about Google's history. Crowley Redding does a pretty good job of not being too admiring, and presenting different sides (at least to the point of knowing it exists if you want to find out more).