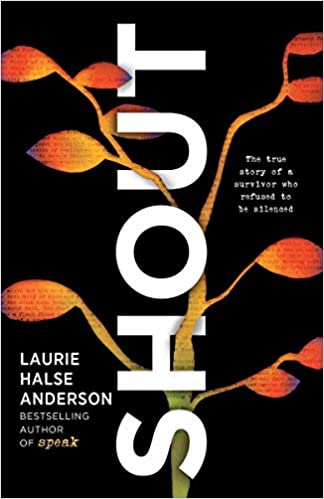 If you know anything about this book, you know it's important. Anderson has already written one important novel about sexual assault—Speak—but this is her far more personal memoir, written both to explain how she came to write Speak and simply tell her story. In SHOUT, she writes in verse, which made me wonder how I could possibly read it. Although I know this is weird, any time I see poetry, I get all anxious and can't pay any attention to what I'm reading. So I had concerns. But then I found out there was an audiobook version—read by Anderson herself—so I checked that out and started listening. It didn't sound like poetry; instead, it sounded just like someone telling a story, which made it completely accessible to me.
The first part of the book is really about her growing up. She didn't have an easy childhood, but it wasn't all about the rape she experienced just before starting ninth grade. She also had struggles with her parents, who had struggles themselves. She spent her senior year on an exchange program in Denmark, so much of the section is about that. She finishes off with her years just after finishing college. The second part is where the story really comes alive. Here, Anderson talks more about misogyny and sexual assault and the impact they have on everyone. She also addresses ideas for what we can do about it. She talks about the many speeches she's given at schools around the country and how she isn't always received with appreciation by faculty and administrators. Because, after all, "those of kinds of things don't happen here." Nevermind that "here" is by definition part of everywhere, which is exactly where it happens.
I highly recommend this book for everyone. It could be life-changing.